Taber Players celebrating women
Posted on February 26, 2020 by Taber Times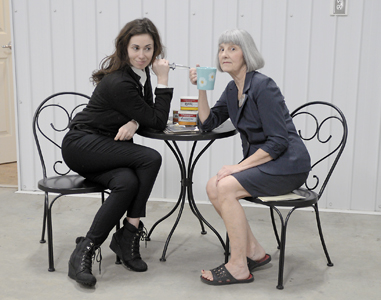 TIMES FILE PHOTO
By Greg Price
Taber Times
gprice@tabertimes.com
International Women's Day is going to be celebrated in style, when its spirit is showcased in a series of one-act plays when Taber Players presents 'Words, Women and Song' in three run dates in early March.
Tracy Wyman is part of the directors, and after taking over the Lethbridge Driving Academy, was wanting to find an avenue to continue her creative pursuits.
"I love one-act plays. To have an evening of all one-act plays would be brilliant. I love this being like a soap opera where it's over-the-top and anything goes," said Wyman of Words, Women and Song which will see six female thespians take the stage at the Taber Legion. "It harkens back to the Carol Burnett type of comedy and that appeals to me."
Words, Women and Song will feature three one-act plays. Given it will be three shorter performances, Wyman doesn't want to give too much away for plot lines, but promises an enjoyable night out in Taber for something a little off the beaten path.
"I've always loved theatre. I've been in the audience, behind the scenes, directing, acting, helping with scenes — it doesn't matter, I just want to be part of it," said Wyman. "I probably prefer directing to acting, but it has to be the right piece. This variety show is a little bit different because we are participating in so many different things. It makes it difficult, even though we try and make it look easy on opening night. I always use the iceberg analogy. You see the iceberg in the water and the audience only sees the top piece, but everything leading up to that is under the water which is what we are working on. It's a lot of rehearsal and time spent where people are jumping from directing to acting and singing and helping with sets."
Wyman will be joined by Lee Ann Anderson, Jocelyn Steinborn, Rachel Rasmussen, Jaclynn Elfring and Ivory Rasmussen in the production. Taber-Area band Olivia Blue will provide musical accompaniment. The three-day run will be just prior to International Women's Day on March 8.
"I love plays that have men and women in them also, but it's interesting here where we have this cast of six women when we do Steel Magnolias in the fall, which we were supposed to do in the spring but we were unable to," said Wyman. "But us six women said 'what should we do?', and that concept came here, doing another play to celebrate International Women's Day. It's how the variety night came to be. There will be a preview of Steel Magnolias in the variety night just to give people a taste of what they are going to see in the fall. It's a collaborative effort and what is really nice, is we are working together now and we will have this real connection going in the fall for Steel Magnolias. We will all know each other so well with these one-act plays."
There is a one-act festival that goes every year in Lethbridge and Taber Players wanted to bring that experience to town.
"I participated last year in Lethbridge and I participated in the ones in Foothills when I was in Okotoks and if you've never seen one-act plays, it's almost like an evening of entertainment of unexpected surprises. You don't know what to expect," said Wyman. "One-act plays can stretch over to the comedic to the overly dark to everything in-between. You get this great mix with veteran actors and some who have never been on stage before, when you see a short little piece done brilliantly, it's worth the price of admission right there."
'Words, Women and Song' runs March 5-7 with shows at 7:30 p.m. each day, with doors opening at 7 p.m. at the Taber Legion. Tickets are sold at the door and cost $20.