Remfert joins police commission
Posted on February 12, 2020 by Taber Times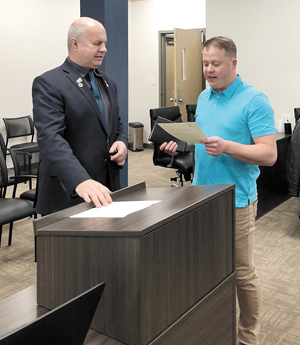 TIMES PHOTO SUBMITTED BY GRAHAM ABELA
By Greg Price
Taber Times
gprice@tabertimes.com
Taber Municipal Police Commission has some new faces on it, and one of them is a person continuing to look to do more community service.
Already the president of Taber Minor Hockey Association, Danny Remfert threw his hat in the ring for a seat at the police commission and has found the experience enjoyable so far.
"I've been on the Taber Minor Hockey Board for the last six years and have had fun doing it. I've always been thinking of being part of a council or something like that. When the police commission was brought up, I thought it would be a great opportunity to be in a formal government type thing that I could see if it was for me," said Remfert. "I didn't know exactly how it was going to be (the swearing in), but it was fun. It was enjoyable and I hope it stays like being able to help with policing."
Being in a small town and a business owner in Taber, Remfert added having civilian oversight of policing is extremely important.
"You want local, provincial and federal money to be spent properly. Being part of seeing where this money is spent on in our police force in a community I've lived in and working in my whole life is very important," said Remfert. "Being the youngest member on the commission, I hope it gives a different view of how the oversight should be. Decisions made by commissions and council are for the future, and some turnover, especially with younger people is positive because you want the younger generation to get involved."
As a local business owner, Remfert wants to see Taber thrive and the police force can help with that.
"I want the police force to be using resources properly that we are paying for. I'm hoping to be in this community for 30, 40 more years in Taber. The decisions made now are affecting that," said Remfert.
Remfert graduated out of St. Mary's School in 1998, taking some business administration studies at Lethbridge College. Working with the Royal Hotel and another in Lethbridge, Remfert decided to join recreational boards after starting a family life. As Remfert embarks on his first term on the Taber Municipal police Commission, he hasn't used out even loftier aspirations in the Town of Taber.
"Enjoying that, I decided to join something more formal in the police commission. It was easy to make the decision, and the hope is that if it's something that goes well, that being part of town council is not something that would be a surprise to me in the future," said Remfert.
Being the youngest member of the Taber Police Commission, as he gets his feet wet, Remfert noted he will lean on the wisdom of the more veteran commission members early on as he gets acquainted with his new duties. Remfert encourages residents to get involved in their community in both small and big ways to try and make it better.
"If you're a younger person who wants to strive and live in town, getting involved is beneficial. I've seen through one meeting there's worth and enjoyment in it. Taking a pass and saying you're busy is not acceptable. If you are still here 30 years later and you're less busy, there may be something you don't like, but you could have helped make that decision 30 years ago," said Remfert. "If you are planning on being in this community a long time, why wouldn't you want to be part of the process that helps shape the community?"