Artistic flair all her own
Posted on February 12, 2020 by Taber Times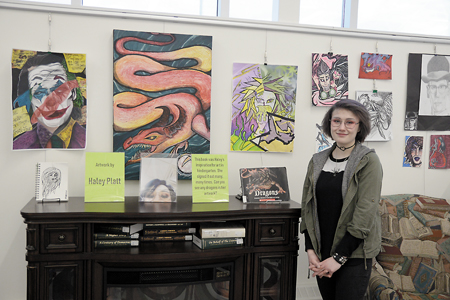 DRAWING BOARD: High school student Haley Platt has had several pieces of her artistic expression showcased at the Barnwell Library in recent weeks. TIMES PHOTO BY GREG PRICE
By Greg Price
Taber Times
gprice@tabertimes.com
For Haley Platt, there is a beauty all its own in the dark places of the world, and that beauty is on display at the Barnwell Public Library, with Platt the featured artist.
Platt knew from a very young age, artistic expression was in her genes.
"It was here in the old Barnwell school that I got into drawing. I remember specifically a dragon book. I took a picture from it and we were supposed to draw in Kindergarten, and it was then I realized that I was a little higher of a skill set than the other kids," said Platt. "That was the moment I realized I had some talent for art."
If you were to see Haley around town, you would notice that she is a little 'different' than you would see normally around more conservative rural southern Alberta. That uniqueness she embraces in her art.
"As a kid, I was using my imagination all the time, and it was inspired by the TV shows I was watching at the time. I was big into super heroes. I never wanted to be the princess, I wanted to be Batman," said Platt. "A lot of my art work is inspired by the colourful aspect you can find in the strong, unusual or dark media."
One of Platt's pieces is Batman's arch-nemesis, Joker. While it is the Joaquin Phoenix interpretation of the character in the Oscar-nominated movie, Platt grew up loving the character in all its incarnations from the comic book and to the movie screen.
"The character is so interesting with all the bright colours he wears, plus he's scary. I love all the comics, Cesar Romero, Jack Nicholson, Heath Ledger, Joaquin Phoenix and the TV Gotham series (Cameron Monaghan). I love the dark humour that makes you a little uncomfortable, but you have to keep watching. I find that interesting," said Platt.
Platt referred to herself growing up as the 'different one' in the Barnwell area, perhaps even a bit of a black sheep. But, she still found people were interested in her art work, even if others considered it odd.
"In Grade 1 and 2, I was drawing big scary dragons with these big teeth. Some kids were saying 'that's scary, why are you doing that?' And others were curious asking me about it. They were intrigued," said Platt. "It helped me connect people with the weird, dark stuff."
Platt, still only 17 years old despite the vast amount of artwork she already possesses through her passion, joked that she got her display up at the Barnwell Library due to some nepotism from her great grandmother and grandmother. Library staff liked what they saw, wanting to showcase art from a former alumni at the school.
"It was definitely grandma bragging about her granddaughter," said Platt with chuckle, still leery, wondering if her artwork was acceptable for the library, including her infamous Oswald the Homicidal Cat character. "I was thinking 'oh my', I didn't know if my art was tame enough for a school with elementary children in it. There were a few that I wasn't wanting to bring, but my grandma and my mom definitely pushed me. They were very encouraging."
Not just with the drawing art medium, Platt loves all types of expression, having sung at Taber Pride and has performed in numerous plays.
"It's actually quite funny, because I'm normally a very shy person. But, I find if I have a character I can portray, I'm a lot more confident about it. I love theatre and I've been doing classic voice lessons since I was seven years old," said Platt, who is going to be in an upcoming Anne of Green Gables play and was Betty Rizzo in a Grease production in Barnwell. "Any performance piece where I can portray something I'm not, it makes me super happy."
However one wants to express themselves artistically, Platt encourages others to pursue their medium, where the the only message you need is the one to yourself in the enjoyment of it.
"What I'd like for people to take away from looking at my art is that art doesn't have to have some deep meaning, it doesn't have to be realistic, or look like a photograph. If your art makes you happy, you don't have to worry about anything else," said Platt. "Embrace your uniqueness in whatever inspires you. Don't set limits for yourself, you're the one doing the art. Have fun and be imaginative, don't let anyone tell you different."
Having graduated from W.R. Myers in January, Platt hopes to take her art to the next level by hopefully being accepted into the Alberta University of Art and Design in Calgary.
"I would love to be a concept artist for film and video games. It's the art director, the creative person drawing all the rough sketches for a character or some type of creature," said Platt. "You create the base and the other people develop it. But, you are creative brain for it. I hope I can get in (AUAD). They have a really good reputation and I know a lot of their students get job offers while they're still in school — it's very competitive. I hope I can make this my career."