Over five decades of Taber service, but first and foremost family
Posted on February 5, 2020 by Taber Times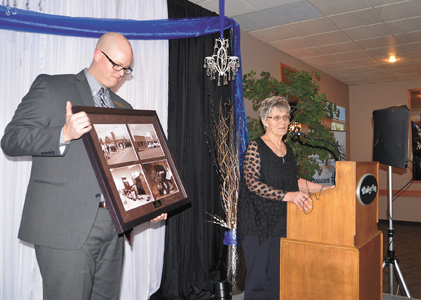 THANKS FOR THE MEMORIES: Former Taber and District Chamber of Commerce president Matt Williams has plaque in hand, honouring Jean Bullock's contributions to the organization over the years in her retirement. TIMES FILE PHOTO
By Greg Price
Taber Times
gprice@tabertimes.com
Citizen of the Year, Queen Elizabeth's Golden Jubilee medal recipient, unwavering volunteer in promoting Taber…but to Audrey Gavlas and Kendra Merkl, she was simply mom.
The Town of Taber is still in mourning over the passing of one of its prominent members late last month in Jean Bullock, a fact self evident with a packed Taber Community Centre (Civic Centre for long-time residents) Auditorium during her funeral service on Jan. 28.
"You run into people and they all had their own stories about my mom and to us, she was just our mom, but to the community, she was Jean, and a pillar of the community. It's pretty nice just to take a step back and think, 'wow, this is pretty cool' seeing that impact she had. But, she's a mom and a grandma to us," said Bullock's youngest daughter, Kendra.
Bullock cemented her presence in the Taber community with a 47-year career at the Taber Times, in which through work and in retirement, she had connections like few others with her job and volunteerism.
"We all knew she was a bit of a work-a-holic and was very committed and loyal to the Taber Times for 47 years. As kids, Audrey is seven years older, and we'd be down there at the old Taber Times on main street, and Audrey would be doing her homework and I'd be booting around as mom set type and all that stuff in the back," said Merkl. "There'd be times we didn't get home until midnight. We'd get up, go to school, and sometimes do the same thing two to three times a week."
As the kids got older, they would be in the back doing insertions in the newspaper.
"It was almost like child labour" said Merkl with a chuckle. "It wasn't just us, but whoever we could bring along with our friends because there were deadlines."
While many in Taber saw a determined Bullock trying to sell them an ad, encouraging people to shop local as a member of the chamber of commerce, raising copious funds for Cornfest, or volunteering at a child's sporting event, that drive had its base in family life.
"She was a quiet guider. She would allow us to make our mistakes and never told us what to do. She'd try and steer us to make the right decisions as a kid, but would let us make our mistakes and then talk to us about it," said Gavlas of Saskatoon. "She was strict, but not forceful. You knew where she stood. This is how you should behave, this is what work ethic is, and you have a duty to your friends and family. Lessons were taught through example."
A wallflower Jean Bullock was not, knowing exactly where she stood with an issue with a tell-it-like-it-is-ness all her own.
Gavlas added her mother wanted what was best for Taber, and when controversy hit, she wanted to hear all the facts, something that was aided by the place she worked at.
"She was abrupt at times and there was no filter. I am sure she offended some people, but for the people who really knew her, it didn't offend them." said Gavlas. "She always meant well and wanted the best for the town."
That attitude intimidated people at first, but once people got past the gruff exterior, they found inside an old softie.
"We have a number of people telling us that when they first met my mother that she terrified them. But once they go to know her, they'd say she was so warm and welcoming and community minded. She embraced them, but when they first met her, she intimidated them," said Merkl.
Wilma Jean Bullock, 74, passed away early Saturday morning on Jan. 25 and leaves with her an impact on a Taber community like few others have. It would be near impossible to talk to a Taberite and not have them know who Jean Bullock was.
Gavlas has been away from Taber for about 30 years now, but coming in for her mother's funeral, the impact she has seen the bloodline give in the community is obvious.
"It is so touching to come home, and I haven't been around for so long, the stories I hear are so touching. She has done so many amazing things here, that as I am her child, I just took for granted," said Gavlas. "I was thinking, 'why are people making a big deal?', this is just mom. It's something I've always known, so it's hard to grasp the impact she's made on the town."
For all the accomplishments Jean Bullock had in her time on Earth for the town of Taber, Merkl added with wide smile, culinary skills were not one of them. The few dishes Jean made were good, but the Bullock household ate out a lot.
"She was a terrible cook, she hated cooking," said Merkl, as it was heard at Bullock's funeral, her freezer was made more to store clothes she was about to iron than to store food she was about to cook. "I want you to know for the record, we are much better in the kitchen than my mother ever was," Merkl continued with a chuckle. "I don't know how that happened. She had no desire to be in the kitchen."
While Jean Bullock may not have worked hard in the kitchen, she did have a quirk of following her superstitions religiously. Leaving out the same door that you came in. Avoiding traveling on a Friday — especially Friday the 13th. If a blonde person was the first person who walks through your door in the New Year, it meant good luck. You had to ensure you have $100 in your wallet/purse as the clock struck to the New Year to ensure prosperity for the year. Bullock avoided black cats like the plague.
"There were times we would almost go through the windshield with her slamming on the brakes because a black cat was crossing the road. She would literally drive backwards and flip around so she would never cross paths with a black cat," said Merkl.
Merkl's house had continuous phone calls and well wishers dropping by in the span between when Jean Bullock passed away and the funeral.
"From 8 a.m. the day she passed, our house phone never rings, and it rang steady until noon. And my phone blew up with texts. The food we received was ridiculous along with flowers," said Merkl. "I wasn't heavily involved in the community like my mom was. We'd go in waves thinking only a 100 people would be the funeral, but another wave knowing we are going to fill the Civic Centre."
With Jean Bullock being such an institution to both the Taber Times and the town of Taber for decades, there is an almost mystique immortality attached to it where one assumes she would always be there.
A tough-as-nails attitude which Bullock possessed had a Taber Times staff party that had sumo suit wrestling involved. She got in on the fun, but suffered a serious leg injury in the process. As medical teams tended to her, she was wondering what the fuss was all about.
In her final year, Bullock would be in the hospital on a Wednesday and then bowling the following Tuesday in her ability to bounce back. Her final day had her close to friends.
"Her last day was exactly what she wanted it to be with her routine. Coffee, lunch, bopping around town, VLTs, texting her grandkids," said Merkl.