Coldest Night of the Year coming
Posted on January 29, 2020 by Taber Times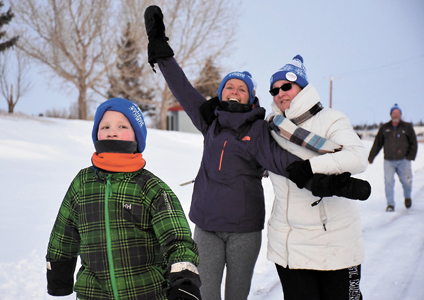 TIMES FILE PHOTO
By Greg Price
Taber Times
gprice@tabertimes.com
The Coldest Night of the Year is looking to warm the hearts of those giving spirits out there with the Taber Food Bank's largest annual fundraiser.
Coldest Night of the Year 2020 goes on Feb. 22 in Taber, where participants take pledges and can walk distances of two, five or 10 kilometres.
"Coldest Night is put on by a company called Blue Sea Philanthropy. The story of the fella who started that was he was homeless for a time. He went from top of command from his own construction company to on the street. With whatever drove him there, he pulled himself up by his boot straps and he got himself to where he is financially stable again. He felt like he had to do something for the homeless, the under-privileged," said Kevin Leahy, president of the Taber Food Bank. "It is about awareness, but of course, also creating funds for us. It is a fundraiser that has become very important for us."
For 2019, approximately 135,961 pounds of food, including pet food, was given out through the Taber Food Bank's pick shelf program.
There were 6,408.5 volunteer hours given to the Taber Food Bank, not including weekday or hamper delivery drivers. Nearly 35 per cent of hamper food goes to children in the area, with nine per cent going to seniors. The hamper program was utilized by females (51.3 per cent) and males (48.4 per cent) equally, with 32 per cent of the households utilizing the food bank having not done so the year before. Fifty-five per cent of households came in one to three times during the year for a hamper. Peak hamper requests come in the months of December and January. For pick shelf use, with stats taken from Hunger Count 2019, it is estimated Taber Food Bank has over 1,000 visits a month for the program. Approximately an average of 113 front counter forms are filled out per month.
In short, the need is there where the Taber Food bank helps fill a gap in the social safety net in the Taber and M.D. of Taber communities.
The Taber Food Bank has been serving the community for 20 years.
This is the third year Taber has participated in Coldest Night of the Year, where routes have been tweaked for the various distances participants feel comfortable walking.
"Everyone is basically following the same path back to the Legion. The town has been excellent cleaning off the entire walking path. They have the maps and they'll start cleaning up and making sure it's safe two weeks ahead of time. They have been very accommodating and very helpful," said Leahy.
Numbers were down a little bit last year, but Leahy is seeing corporate support surging for the event.
"What we are seeing this year is companies putting challenges to other companies and that is super. Say two irrigation companies want to challenge each other, that's great," said Leahy. "You can pay just to walk or you can set a sponsorship amount you want to raise. It's not a timed event, just a distance event. It's a lot of fun for people."
People can register at the Legion on the day of the event, but organizers are hoping people will enter online earlier to get a feel for how the turnout is going to be volunteer wise.
"We also need volunteers to help man the event itself. People to help stir the chili, clean up afterwards and to help register people and help with signage," said Leahy.
For those who want to donate, register an individual/team or volunteer for Taber Coldest Night of the Year, they can log onto cnoy.org/home. There you can register to fundraise, donate, or search for the Taber location to volunteer. You can also call the Taber Food Bank at 403-223-1833.
"This is our big event, but we like to do a little something every month to keep the awareness there. We don't have to have a $20,000 event every month, but we do need to (have) money to keep going and buying groceries for people coming through the door. Grocery costs have gone up for rush as well as for individuals," said Leahy. "We found an unfortunate situation with the sugar beet crop this year, that some of the workers were laid off early with campaign ending sooner than expected. Usually they have enough employment to carry them through EI, but they didn't have enough this year. They were a couple weeks short to collecting EI. They can find other jobs elsewhere, but when you are living hand to mouth with underprivileged people, unexpected things can really affect them. They need a hand up sometimes."
The goal of the Taber Food Bank is to have its Coldest Night of the Year event raise a minimum of $20,000 to support its Protein Program, which provides fresh/frozen meat, canned fish and sandwich meat for client hampers. It also covers the cost of butchering when a farmer has donated an animal to the food bank.
For more information about this event, please visit http://www.cnoy.org/taber.