UCP looking at the future of photo radar
Posted on January 22, 2020 by Taber Times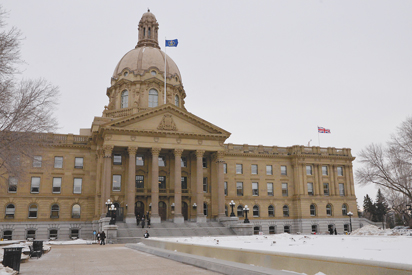 TIMES FILE PHOTO
By Trevor Busch
Taber Times
tbusch@tabertimes.com
Re-examining what appears to be a perennial complaint from Albertans, the province's UCP government has announced another review of the current rules governing the municipal use of photo radar.
Effective Dec. 1, 2019, municipalities and police services were subject to a freeze in relation to the installation of new or upgraded photo radar devices. Rules for site selection, operational restrictions, and data collection are now all under review.
Mounting allegations that some municipalities in the province may be abusing photo radar as a "backdoor tax revenue" generating device prompted the UCP to initiate the review. During the announcement in late November 2019, Transportation Minister Ric McIver observed that Alberta has three times as many photo radar units per capita than British Columbia "but our roads are not meaningfully safer."
The government says the freeze could last up to two years as the province analyzes the photo radar model and collects information.
"I'm not going to say that every municipality was abusing it. In fact, I can't speak to who was or who wasn't," said Taber-Warner MLA Grant Hunter, who also serves as associate minister of Red Tape Reduction. "Everything we do should be based on science, should be based upon the numbers, and if they were putting these things up to basically just be another tax on consumers or customers, or citizens, then I don't think Albertans are okay with that. If it's a measure to be able to reduce harm, stop accidents, and people from being hurt, then I think people are interested in that."
In the previous government's third-party report released in February 2019, NDP transportation minister Brian Mason pointed out that photo radar was utilized by 27 municipalities and generated $220 million a year in revenue, but only reduced collisions by 1.4 per cent.
"Automatic traffic enforcement (ATE) has been demonstrated to be a means of improving traffic safety," said Chief Graham Abela of the TPS in an April 2019 interview with the Times following the report's release. "TPS does not operate ATE in Taber, however we do control through our traffic safety plan where ATE may be located. We have been previously audited by the province's ATE committee and passed in every category."
Following the report's release, Mason mandated changes to limit or ban photo radar at perceived revenue-generating locations. Photo radar is now prohibited at locations with rapid speed limit changes, known as transition zones, and on multi-lane highways unless there is documented proof of safety concerns.
Also speaking to the Times in April 2019, Mayor Andrew Prokop disputed allegations that municipalities in the province were actively abusing photo radar as a revenue generating device.
"You're not going to convince everyone on that topic, because it's been out there that there's so many opinions that believe this 'cash cow' scenario," said Prokop. "That's their prerogative, they can view it that way if they like. But it's been proven with the stats that accidents are down, pedestrian fatalities/injuries are down in targeted areas. I don't know how you argue against those stats. And it seems to me — I haven't looked at everybody's stats — but the police service tells me that's pretty consistent across the province."
Municipalities and police services were also required to have detailed plans in place by March 2020 regarding the use of photo radar.
The plan needs to be backed up by collision data to prove it is an effective road safety tool. The UCP has indicated their government has no plans to repeal the changes implemented by the NDP, but their review found that data is limited and inconsistent, prompting another examination of the issue for Albertans.
"There was obviously a question in Albertans' minds, and we were very much in favour of it," said Hunter. "So we need to take a look at the numbers and see whether science backs this up."
Photo radar has been in operation in Taber since 2011.
In a split 4-3 vote in November 2013, previous town council decided photo radar revenues should remain under the administration of the police service rather than be folded into the general municipal budget to support town projects.
At that time, out of a police budget of just over $2 million, annual photo radar revenues represented an estimated $200,000 to $300,000.
In terms of ATE tickets issued in Taber, in 2015 there was 5,444 (compared to 1,961 officer-initiated tickets), 4,429 in 2016 (compared to 1,635 officer-initiated tickets), and 3,230 in 2017 (compared to 2,134 officer-initiated tickets). The average speed over the posted limit of violators in each of these years was 18 kph. Fine revenue totals (unaudited) for 2018 were $485,837.
In a separate development, a budget implementation bill passed by the UCP in the fall increases the provincial cut of photo radar tickets to 40 per cent from 27 per cent.