Trans Mountain progress made
Posted on January 22, 2020 by Taber Times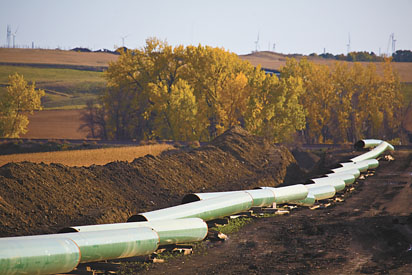 SQUEEKY WHEEL: Projects like the Keystone XL Pipeline are poised to resume barring any further regulatory hurdles. TIMES FILE PHOTO
By Trevor Busch
Taber Times
tbusch@tabertimes.com
With construction of the Trans Mountain pipeline finally getting underway in Alberta following long regulatory delays and multiple federal approvals, Taber-Warner MLA Grant Hunter is hopeful the project's many roadblocks have finally been removed for good.
"We're cautiously optimistic. It's nice that we're seeing that happen. From what I understand, there's a 36 month build-out window that they're looking at. So we're excited about that."
Trans Mountain Corp. began laying pipe for the Alberta section in mid-December, and terminal expansions have been completed in Edmonton and are underway in Burnaby, B.C., which will allow for additional tanker capacity for crude oil shipments.
Last week, the Supreme Court of Canada unanimously dismissed British Columbia's attempt to regulate the flow of heavy oil across its borders, striking down one of the final court challenges to the project.
"I don't put it past the environmentalists to try to block it, and I hope that they see that this is a value to all of Canada and not just Alberta, and that they won't do that," said Hunter. "But I'm not holding my breath."
The original Trans Mountain Pipeline was constructed in 1954. The expansion, once completed, is expected to allow up to 590,000 barrels of crude per day to flow west.