Council receives fire hall update
Posted on January 22, 2020 by Taber Times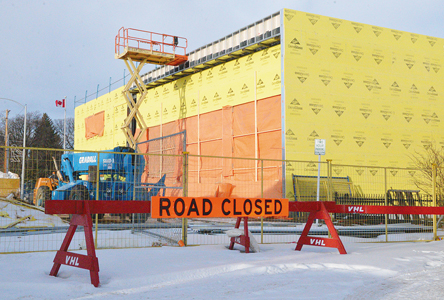 HOT PROPERTY: The town's fire hall project is targeting a move-in date in June 2020. TIMES PHOTO BY TREVOR BUSCH
By Trevor Busch
Taber Times
tbusch@tabertimes.com
The town's new fire hall project is proceeding on schedule and within budget, according to a report delivered to town council by fire chief Steve Munshaw.
At council's Jan. 13 meeting, Coun. Jack Brewin had requested a verbal update from administration about the project's progress and the funds that have been spent so far.
"As everybody is aware, we've had some snow, and we've had some different challenges coming into the fall," said Munshaw. "But our network group has been able to move inside for construction and maintain us on a scheduled timeline. We're looking at move in for June of this year."
In late June 2019, council had awarded the Emergency Services Building tender to VHL Construction Ltd. for $3,075,490, exclusive of GST. Council's selected site is the post office and vacant adjacent property to the east on 49th Avenue. The street address will be 5207 49th Avenue.
"Budget timelines as well have all been met, and we're all within our budget requests by council," said Munshaw. "The final change orders and condition orders will be done as they finalize, and will be done as the walls are getting rebuilt and changed over upstairs. But everything at this point is 100 per cent within budget and the timeframe of the 10-month build."
Brewin applauded the work being done by the contractor while highlighting some unforeseen items that required minor alterations to the overall plan.
"I had the opportunity to tour through the building that's being built now, and they're doing a great job. There's a lot of work in there — cement walls that weren't expected and things like that, that they came across — they're doing a good job as far as I can see. Hats off to you guys."
Coun. Garth Bekkering wanted more specific details about the financial implications involved with aspects of the project.
"Whenever I hear the word 'change order' it tends to peak my interest. Contingency-wise how are we doing?"
"We're within budget," replied Munshaw. "The contingency was placed in at $300,000, and we are within that contingency. The same in looking at that building, it is a completely concrete building — even the interior walls are concrete, and the door frames themselves were poured into concrete. Interior-wise, it's definitely challenging, but we expected some challenges and they're all within our expectations."
Still focused on fiscal outcomes, Bekkering asked about the long-term sustainability of the project's current budget.
"If you're within budget now and the contingency is at $300,000, do you forecast that you'll be within the contingency down to the end of the project?"
While stopping short of any guarantee, Munshaw indicated that would obviously be the intention of administration.
"That's our hope, is to be within that contingency at the end of the project."