Better late than never for happy family
Posted on January 8, 2020 by Taber Times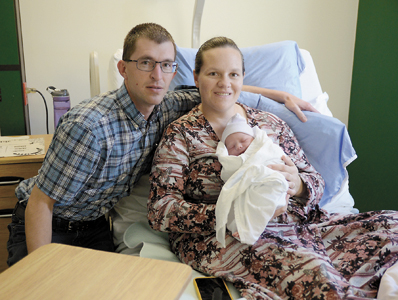 BUNDLE OF JOY: Parents Jake and Myrna Schmitt show off baby daughter Katelyn Rose who was born on Jan. 2. TIMES PHOTO BY GREG PRICE
By Greg Price
Taber Times
gprice@tabertimes.com
Katelyn Rose Schmitt has taken up a common trend with the rest of her family in being anointed Taber's New Year's Baby of 2020.
The fifth child of the Schmitt household, Katelyn has three big sisters and one big brother, all of which arrived late from their original projected due dates. Expecting the birth to be a Christmas Eve present, instead, Katelyn Rose waited until 6:52 a.m. on Jan. 2 at the Taber Health Centre.
"The whole family was ready for the baby to come already," said proud mother Myrna with a chuckle. "All my children have been late. They were all excited and my oldest is nine. Almost daily they were asking when is she going to be here because we knew it was going to be a girl. It was about 3 o'clock at night when the contractions really started picking up and I knew. But, I was expecting it to be late with all the others being late. There was the occasional mild contractions before, but nothing like 'OK, we better go'."
"We were waiting the whole Christmas season, waiting, eating, waiting. It was good when she arrived. I had to be close to home when she arrived, with work," added proud papa Jake of the holiday season blessing of Katelyn Rose.
Coming in at seven pounds and 11 ounces, Katelyn Rose Schmitt joins a family unit now whole for the entirety of 2020, as the Taber family embarks on a new decade.
"We are excited that she is here and we can continue on and get back to a normal life," said Myrna.