Lost Paws approaches M.D. of Taber
Posted on January 1, 2020 by Taber Times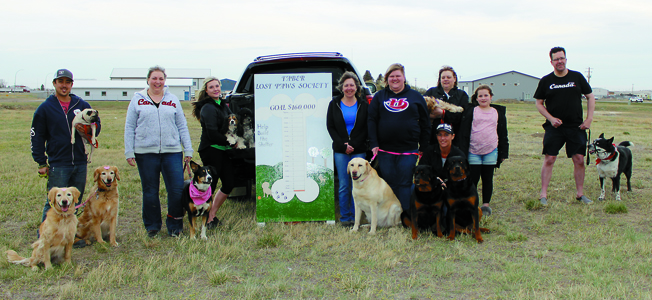 TIMES FILE PHOTO
By Cole Parkinson
Taber Times
cparkinson@tabertimes.com
If all goes according to plan, Taber Lost Paws Society will be reaching near their end goal by the end of the year.
In a delegation to the Municipal District of Taber, the group gave the M.D. an update of where they were during council's regular meeting on Dec. 10.
"The Taber Lost Paws Society is a grassroots group of Taber and area people who are concerned about the welfare and care of animals in our community. We strive to create a healthy and safe place for dogs in our community and in partnership with Taber Police Service and the Town of Taber. We will ensure the animal control function is well-maintained while at the same time providing for adoption and fostering program within our community," explained Carolyn Terpstra, president of Taber Lost Paws Society, who also detailed the shape of the current facility. "We are out of date, out of space and we are not able to do all of the things we want or house and care for the animals properly. We just can't continue like this. We have a group committed to maintaining, organizing and facilitating the implementation of a new shelter and forming a society to maintain all of the needs of Taber Lost Paws. This is how we will succeed."
Since the inception of the group, they have been looking at ways of getting a new shelter in the town of Taber and they have become increasingly closer to realizing that dream.
In mid-December, the group explained to council just how close they were to their financial goals.
"Fundraising is one of our really big things that we have been doing this year. Our fundraising campaign started in April this year and since then, we approximately have $37,000 right now. We are kind of on target to hit $50,000. We have our calendar sales going on right now so our goal is to get to $50,000 by the end of the year once our calendars are all done, which they almost all are. With our group, we have a great group of executives that dedicate a lot of volunteer time to this cause. This is something we will have to continue for some time. The fundraising for this facility and to keep it running," continued Terpstra. "Currently, we have $100,000 of capital expenditure from the town that was allocated for the current shelter and since the current shelter isn't in very good shape, we need to have a proper facility that will keep dogs safe and not have a building that is falling apart."
A question brought forward by council was around if cats and dogs would be sheltered in the new facility.
"Currently, we are doing just dogs only. A year ago we formed a society and talked about cats and dogs because we wanted to get something better than we have right now. We did have another lady who is a member and she talked about cat rescue in the community and she was fine continuing her cat rescue in her own home. Recently, I heard she wouldn't continue doing it but we already have the plans for the building done so in order for us to do cats, we would have to fundraise to add on to the building. It is something we are considering for the future," answered Terpstra.
Other council questions revolved around how close they were to beginning construction and costs not only to build the facility but also operational year-to-year costs.
"We have a woman who is going to work as our general contractor, Sara Wynker from I-Beam. What she wants to do is donations in-kind as a general donation amount," replied Lila Hein, vice-chair of Taber Lost Paws Society. "So currently, Sara has given us a cost of $200,000 for this building. There are going to be costs that we haven't 100 per cent figured out completely that may add on to the cost but right now it is at $200,000 to build it," added Terpstra. "According to town council, we do have another $50,000 coming from the Town of Taber as well."
In terms of occupancy, the group explained to council just how many dogs the town takes in during a year.
"Chief Abela tells me we are going through about 50 dogs a year in Taber," said Terpstra.
Council also inquired how many dogs are dealt with within the M.D. of Taber.
"The M.D. generally houses anywhere between 12 to 25 dogs, that number has gone up significantly in the last year. I think a lot of that has to do with people dropping dogs off in the M.D. We are certainly finding dogs that we've scanned with chips from other communities. I think we have a very good reputation of rehoming dogs, a job I don't think peace officers were designed to do," said Kirk Hughes, director of community safety and planning and economic development. "I think it is (Lost Paws Society) a great regional opportunity to secure proper dog care."
Hughes also detailed the budget spent on dogs within the M.D.
"So something you don't want to hear, over budget on dogs. My budget is $5,000 and I am at around $7,200. We are paying a considerable amount for animals. To give that money to Taber Lost Paws, in the long run, the efficiency of something that will run 20 years or more, that is a good efficiency moving forward. This number isn't going to go down, it is going to go up. It has gone up every year that I have been the CPO sergeant," he said.
Once they do reach that year-end goal, they also know that won't be the end of their money-raising endeavours.
To keep the lights on and continue to have a functional facility, the group knows more money will be needed, though it won't be as big of a push as it has been to get things constructed.
"We will definitely have to continue fundraising, probably not to the extent we are doing this year, as it is our big year to get the building done. Grants are another thing, the town has been doing grants on our behalf. We have some of our executive who does grant writing as well. As well as donations, we are always looking for donations. That is why we are here today, to see if this would be something you'd want to partner with," stated Terpstra.
While they expect to do some fundraising, some money will be coming in via the Taber Police Service as well.
"As the Taber Police Service partnering with the Taber Lost Paws Society, we recognize the operating costs moving forward aren't necessarily something we want the volunteers to keep fundraising for. My plan moving forward is, although the building will be care control of the Lost Paws on leased land from the Town of Taber, the town has contributed a large piece of land that the building will go on. We will cover the expenses related to the utilities as well as provide a $500 a month payment to the Lost Paws Society to continue with their operations as well as a per night, per dog amount of $30 while the dog is under the care of the bylaw, which is five days. We think that model will work for the amount of dogs that we have and we are fortunate to have this group of individuals," explained Graham Abela, Taber police chief, who also stated they were in the process of getting the facility up and running. "We are at subdivision application and we are moving forward, from the town's perspective, with the bill. Our timelines are as soon as possible."
While no request was made, Hughes explained that a Request for Decision would be coming forward to council soon.