Eagle Spirit Nest Community Association chooses new logo
Posted on January 1, 2020 by Taber Times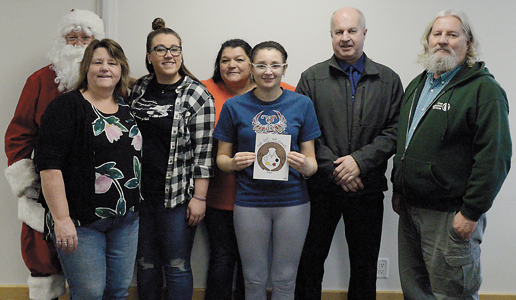 CHOSEN LOGO: Lindsay Derksen shows off her logo that won a contest which will now represent the Eagle Spirit Nest Community Association branding as it moves forward in its awareness campaign. TIMES PHOTO BY GREG PRICE
By Greg Price
Taber Times
gprice@tabertimes.com
As the Eagle Spirit Nest Community Association continues to make inroads in the Taber-area community, it has chosen the logo that will represent it.
The association held a contest for youth, giving a cash prize to the winner for the best logo.
The organization got six logo submissions, which were judged by W.R. Myers art teacher Hyrum Moriyama and Dean Crapo of Moonlight Graphics. They both chose Lindsay Derksen's logo, liking all the submissions.
The following is the written submission by Derksen of why she created the logo the way she did.
"The eagle in my design represents the Eagle Spirit in the association's name, and also due to the significance of the eagle in most, if not all, of indigenous tribes of North America. It is emphasized by the use of its feathers in both ceremonial dress and various artifacts, it's widely known to be a symbol of bravery, courage, and wisdom which are qualities that can undoubtedly be found in any diverse community. I drew the eagle in the shape of a circle in order to represent the Medicine Circle, or the Sacred Hoop or Sacred Circle, (though it can also be the shape of a bird's nest, to symbolize an eagle looking over its brood) and everything it is symbolic of; the four smaller circles encompassed by the eagle symbolize, among other things, the four directions, referring in this context to the acceptance of individuals from all walks of life into the community because that is part of what makes a community diverse. The directions are important for truth and reconciliation as well, as it is the responsibility of everyone across Canada (and hopefully the rest of North America in the future), especially those living on designated treaty territory, to work toward achieving the capacity for respect, empathy, and understanding of the Indigenous perspective as outlined by Eagle Spirit Nest's vision. The seasons associated with each direction can tell us that our efforts are neither static nor specified in their timing, they must span throughout the seasons again and again, into the future and beyond. Our ancestors learned to weather all of the seasons, and they shared that knowledge with others who in turn shared their own, so our presence here, in our present, is a testament to what can be achieved when people work together."
"The colours are also in reference to the racial diversity of such a community, a visual statement of acceptance and understanding that tells others that physical appearance, even at the most basic level, is not a factor of judgment. In an Indigenous context this is also a testament to the fact that truth and reconciliation is truly achieved when members of other racialities are making the effort as well; this is not a matter solely between the Indigenous people and the descendants of the colonial Europeans, it is a matter for all people within the community regardless of skin colour. The diverse community is once of racial acceptance, for there is no chance for understanding and accepting others if we cannot look past something as simple as the colour of one's skin."
"The community we are part of is integral to our growth and development as both individuals and members; we can (and do) grow on our own, but we also grow with others which teaches us things we would not have learned on our own. How we interact physically, emotionally, intellectually, and spiritually helps shape our perspective; in learning and working together we can achieve a better understanding and respect of one another as we discover similarities we share and explore what differentiates us from one another."
"Lastly, the lines connecting the circles and the eagle symbolize the holding of hands; others may be brought into the fold by aid of a single member if one is not drawn to the community itself, or was not previously aware of it. Simply put, we are brought together and united as a collective under the same vision regardless of who we are or where we came from."
Eagle Spirit Nest Community Association is wanting to hear from the community in what they would like to see from the community as it prepares to enter 2020.
The association's next meeting is on Saturday, Jan. 4 at 5 p.m. at the W.R. Myers Library.
"Everyone is welcome, every idea helps. Let us know if your interested in volunteering at events or programs we are offering," said Lisa Sowinski, president of Eagle Spirit Nest Community Association. "You don't have to be a big part but we need community members to make Eagle Spirit Nest a success and have the programs work. Every bit helps. It takes a village to raise a child."
If one cannot make the meeting, but have some ideas for the association, they can e-mail spiritnestcommunity@gmail.com or message them on Eagle Spirit Nest Community Association Facebook page, which has over 600 likes.
Eagle Spirit Nest Community Association held a craft day at the Taber Public Library on Saturday which bought in various families.
"Everyone who showed up with kids, it was their first time to a Eagle Spirit Nest event. It was awesome, the kids had fun," said Sowinski, adding Santa made a surprise visit.