Zuidhof honoured for honesty
Posted on December 18, 2019 by Taber Times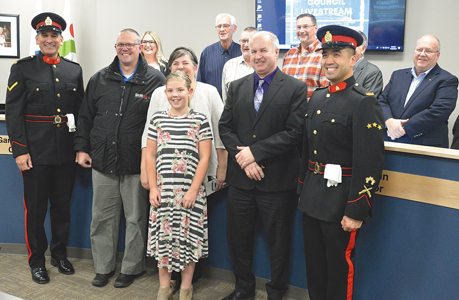 HONESY PAYS: Blakelee Zuidhof was honoured at town council's Nov. 25 meeting for returning a lost $100 bill to the Taber Police Service. TIMES PHOTO BY TREVOR BUSCH
By Trevor Busch
Taber Times
tbusch@tabertimes.com
Those who believe honesty and integrity are vanishing vestiges of the past haven't met Blakelee Zuidhof.
On June 27, 2019 Zuidhof was playing at a park in the community and found a $100 bill. Rather than pocketing the cash as an unforeseen windfall, this unique 10 year old had other plans.
"Doing the right thing, she turned it in to the Taber police in the event the owner attended to report their loss," said Sr. Cst. Dave Dube in a statement from an Oct. 26 letter that was included as part of town council's Nov. 25 agenda. "As of October 24, after our 90-day hold period, no one attended to claim their money. According to our policy, the money must be turned over to the Town of Taber. On Oct. 25, I attended to the Administration office and turned the bill over and received the included receipt."
"I believe we have an opportunity to show this young lady that doing the right thing has rewards," continued Dube in his letter. "I believe, if you should agree, returning the sum to her would inspire her throughout life, and maybe those around her."
Characterized as an act of true integrity, the Taber Police Service and the Town of Taber wished to recognize Zuidhof's actions, and she and her family were in attendance at the Nov. 25 meeting.
"There's a pretty special opportunity tonight," said CAO Cory Armfelt. "As part of the policies we have at the town — we've been reviewing policies lately — one of them indicates that if a citizen finds money, that they are to take that money and turn it over to the Taber Police Service, and after a period of time if nobody comes to claim that money, that money goes into the operating reserve of the Town of Taber. It's very rare that we have a display of integrity before us that we do this evening…we thought it fitting to recognize Miss Blakelee with a bit of presentation here this evening."
The Town of Taber took the opportunity to recognize a young member of the community whose honesty "has been, and will always be, appreciated by her local government and the Taber Police Service."
"We are very appreciative of all you've done. I don't know if you know how involved this is, for someone at your young age to do this," said Mayor Andrew Prokop. "It's actually a requirement of the Municipal Government Act, for anybody that finds anything that doesn't belong to them, it's supposed to be turned into the police service for attempts to find the rightful owner. That did not happen, the item was turned over to the municipality for dispersal…we can't say how impressed enough we are for what you've done there. It shows high integrity and great character, and obviously a great upbringing by your parents to instill that kind of mindset and doing the right thing. We all thought that at the very least we could do something for yourself."
Prokop presented Zuidhof with a number of gifts in appreciation, and members of council and the Taber Police Service congratulated her for her actions. Following the presentation, council voted unanimously to thank Blakelee Zuidhof for her honesty and integrity in turning in lost cash to the Taber Police Service, and commended Miss Zuidhof for her strength of character.