Business of the Year for Saunders Insurance
Posted on December 11, 2019 by Taber Times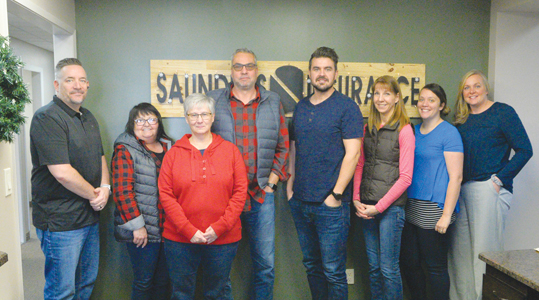 RECOGNITION: The staff at Saunders Insurance, which includes Ken Holst, Mitchell Holst, Scott Saunders, Jill Hudson, Linda Coombs, Siobhan Gardner, Patti Chapman, Chad Runquist, Jill Campbell and Ruthanne Holst. TIMES PHOTO BY COLE PARKINSON
By Cole Parkinson
Taber Times
cparkinson@tabertimes.com
Since 1963, Saunders Insurance has provided Taberites with their insurance needs and now, they are being recognized for their service to the community.
Announced as the 2019 Taber and District Chamber of Commerce Business of the Year, the 11 person staff at Saunders Insurance are grateful for the recognition.
"It was awesome, we were all pretty excited," said Ken Holst, president of Saunders Insurance, of the reaction the staff had when hearing they won the award. "We are definitely appreciative of being recognized, nominated and being given that award. We are very humbled and appreciative."
Due to being located in the community for the past several decades, Saunders Insurance has been one of the more permanent businesses in the Taber downtown core.
"Saunders Insurance started in 1963. It has always been locally owned and family-owned. It was started by Joseph and Gordon Saunders, a father and son. It has somewhat stayed in the family through the years. It has been a long run," explained Holst. "When they first started they were just down the street here but have always been right here in this area."
One of the biggest initiatives Saunders Insurance has subscribed to is giving back to the Taber community.
With team sponsorships, hosting Cornfest breakfasts, assisting with the Taber Food Bank, and many other initiatives, the team at Saunders is always willing to lend a helping hand.
"We love the community. We live here, we raise our families here and we want to give back. We want to give back to those that support us and make us who we are. We do a lot with the food bank, we do a lot with other charities and we are heavily involved with Cornfest. We have a pancake breakfast that we do out front here. We are heavily involved with sponsorship here within the schools and different other groups. We volunteer, we coach, we sit on boards, we sit on commissions and we are heavily involved that way because this community is important to us," added Holst. "For example, with the Stuff a Bus, half the staff went to IGA and bagged the food and half went to Co-op. We staggered so we could stay open. It was mandatory that we did that but everyone loves doing it. It's not like I'm forcing anyone to do it but we all realize that and that is our philosophy."
While they aren't in a particularly flashy type of business, they try to make things as easy as possible for anyone who walks through their doors.
"We know insurance is a swear word to many people, especially right now. We are in one of the hardest markets that I have ever seen but we still prided ourselves on finding solutions and trying to help. Nobody loves insurance but people need insurance so we try to soften and help with that," said Holst.
The nature of Saunders Insurance customer service and expertise has been recognized throughout the community far past just the Business of the Year award.
"We do hear and we do have people come in saying 'we appreciate you sponsored my son's soccer team' or 'you put your name on their basketball jersey'. You aren't going to please everyone because insurance is insurance and nobody loves it but we do have people come in saying 'we appreciate the effort you give to us.' We just did a customer survey and that was the feedback we got," continued Holst.
While Saunders Insurance will be taking home this year's award, they acknowledge the fact there are plenty of great options across the town of Taber that are equally deserving.
"This town is thriving because there are great companies, great businesses and great people running them, and great people involved with them. They are involved as well and we are appreciative of them. That's what makes this award that much more special because that it is out there. Most people are doing their part and trying their best. We appreciate working alongside them and in conjunction with them. We value what they do for us as a community as well," said Holst.
When Holst does step up to the mic in mid-January to receive the Business of the Year award, he is most excited at the prospect of thanking the community for their support over the years.
"I'm okay with speaking in front of people because I've done it lots. I don't get nervous with it and it will be short and sweet. We just want to acknowledge our thanks to the community," he added.
The Taber and District Chamber of Commerce Annual Dinner & Awards Banquet is coming up fast, and will be held on Jan. 17, 2020.
"I guess it is a level of satisfaction that being dedicated to your community is worth it," stated Holst. "It excites us and incents us, and me personally, to continue to do that and make this community thrive."