Taber feeling pain of provincial budget
Posted on November 20, 2019 by Taber Times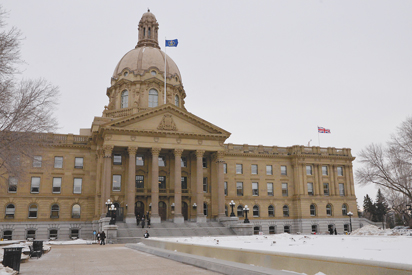 TIMES FILE PHOTO
By Trevor Busch
Taber Times
tbusch@tabertimes.com
Towns and cities across the province are still struggling to come to terms with the cost-cutting impacts of the UCP's provincial budget, with the Town of Taber conducting a recent analysis of the implications to the municipality's bottom line.
But the specific details of that analysis are being kept from the public, at least for the time being. At town council's Nov. 12 meeting, provincial budget impacts to both the 2020-2024 capital and 2020 amended operating budgets were discussed in closed session. On Oct. 28, finance director John Orwa had requested more time to assess the financial repercussions for the municipality, and council had agreed to table further budget discussion until Nov. 12.
In an interview with the Times on Friday, Mayor Andrew Prokop revealed some limited information about where the town expects to take a financial hit.
"We haven't finalized that, but we're looking at cutting or holding back in certain areas for 2020. So it doesn't mean it's never going to be done, but for 2020 what was earmarked is likely going to change. That's not official yet, and without getting into serious details, that's kind of the direction. All municipalities are facing the same challenges, and obviously we have to make some changes and shift gears at our end, do what's more priority-based and where the extra needs are as opposed to some of the wants we're looking into to improve upon. It's just one of those things, you don't have much of a choice."
Announced in the province's Oct. 24 budget, upcoming cuts to Municipal Sustainability Initiative (MSI) funding is one of the key areas identified by Prokop that will see reductions in the town's overall revenue. In 2020-21, the funding for the program will be reduced by $94 million and in 2021-22 the reduction will be $142 million, for an overall reduction of $236 million, or nine per cent. 
"This is very public already, related to MSI, which is very big for everybody," said Prokop. "For us, that equates to a roughly $2 million bill what we get normally, so it's $160,000 difference that we're not going to get. Everyone is in the same boat, it doesn't matter what municipality, it's a nine per cent reduction. And the following year, I don't think they've come out with that figure just yet, but it's likely going to be a little higher than that, it sounds like."
The MSI program sees provincial grants issued to municipalities to fund infrastructure projects, and Prokop believes it will be difficult for the municipality to absorb the cuts. After the MSI program is wrapped up, the province plans to introduce a new Local Government Fiscal Framework to apply to all municipalities.
"MSI is a big one, and it's kind of been a main focus — even at AUMA for the last year it's been brought up — because that's a big one for most municipalities. That's a big disappointment for me, and others, that was very high on the priority list to try to deal with how we are affected, or deal with that decrease. As I said, I think it's likely going to be decreased that much more in the fall, and beyond that I don't know. But the start is nine per cent, and that's big enough. Anything more is going to be that much more impactful."
Reports from various municipalities in the province would appear to confirm the UCP's budget is now targeting 40 per cent of fine revenue — boosted from the previous 26.7 per cent — but Prokop says this change hasn't been confirmed and wasn't discussed by council on Nov. 12.
"It was proposed as a possibility, so it's not final yet. We haven't really gone down that path as yet."
Potential postponements and adjustments to the timeline for various planned projects should be expected, said Prokop, but he wasn't revealing any specifics about what might be slated for the chopping block.
"Right now, I think there's going to be things that come off the table that were slated for 2020 that we're going to have to put on hold, and hopefully carry on with in 2020. But again, that will depend on what other funding is available and what other areas are cut and what we have to deal with, and go forward on a priority basis. I think that's kind of where we're at, and because of the financial situation the province is in, we're kind of stuck in the middle. We're trying to help in that regard and do our part, but it's the actual sad state of affairs that the provincial government is in financially right now that we're all feeling, or are going to feel."
More hard details on the provincial budget's implications for the municipality are expected at the Nov. 25 meeting of council.
"There's some things to be finalized that will come up for the next meeting, and we'll have some more information. It was very preliminary what we discussed, and the path and direction that was set."