Resource Officer Program still on top of its game
Posted on November 13, 2019 by Taber Times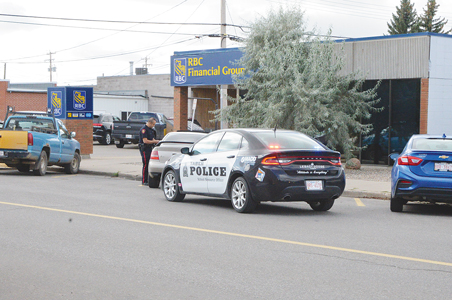 SAFE COMMUNITY: TPS School Resource Officer Cst. Chris Nguyen performs a traffic stop on 53rd Street in September. TIMES PHOTO BY TREVOR BUSCH
By Trevor Busch
Taber Times
tbusch@tabertimes.com
The latest performance survey of the School Resource Officer Program has been completed, and the position is still receiving top marks from school administrators.
Satisfaction ratings for the SRO Program exceed 93 per cent, which has not changed since the last survey which launched in December 2017. The survey indicated no responses of dissatisfaction, and only minimal neutral responses. The previous survey did include dissatisfied responses, but only 2.5 per cent.
"Although youth crime is down across Canada, I know from our statistics in our community that youth crime is very low," said TPS Chief Graham Abela at the Taber Municipal Police Commission's Oct. 16 meeting. "I give a lot of credit to the programming of the School Resource Officer program and the resiliency that it teaches, especially focusing on children at a young age."
The current SRO is Cst. Chris Nguyen. According to Abela, the position has been in place since 1997, and splits costs between the two school divisions and the Town of Taber.
Some 75.9 per cent of respondents indicated they are very satisfied with the programming used by police in their presentations to students, and an identical percentage indicated they were very satisfied with the intervention of the SRO in threat assessments. Another 70.4 per cent said they were very satisfied with enforcement activities involving smoking, traffic, trespassing, fighting and drugs.
On the communications front (emails, phone, timely response, frequency, clarity) the SRO posted satisfaction rating of 96.3 per cent, while impromptu attendance also rated highly at 86.2 per cent. The position would post a 100 per cent satisfaction rating with regard to the SRO's professionalism with staff and students.
"There are rarely black and white answers when dealing in the context of a high school. It is important to work through all issues and to get input from all agencies involved," said Greg Thompson, former vice-principal of W.R. Myers High School, as part of comments included as a background to the survey. "I stressed to my cohort the necessary and trusting relationship that we have and how we rely on each other when working through decisions that could ultimately have long term effects on a teens' life. I consider the SRO to be one of the most important roles when I need opinions or information on a high risk student."
In Horizon School Division during the 2018-2019 school year, the SRO was involved in 13 violence threat risk assessments, 11 Criminal Code investigations, 10 drug issues, 19 incidents under the Mental Health Act, and 140 non-criminal assists. In Holy Spirit School Division during the same time period, the SRO dealt with one violence threat risk assessments, four Criminal Code investigations, three drug issues, two incidents under the Mental Health Act, and 64 non-criminal assists.
Although the survey includes some valuable information, it consisted of only 29 respondents from 10 schools, which was acknowledged to be a low percentage by the Taber Police Service. The majority of respondents, over 24 per cent, were from St. Patrick School. W.R. Myers High School was the second highest with over 20 per cent.
"I thought it was pretty interesting, even though I was disappointed in the numbers," said TMPC chair Ken Holst. "I don't know what we can do with further surveys to increase that."