Quilting art featured at Barnwell library
Posted on November 13, 2019 by Taber Times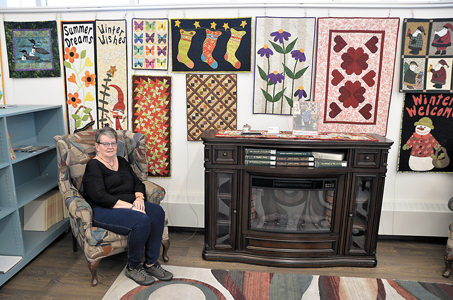 QUILTING BEE: Marg McCulloch loves quilting so much, she has gone on retreats that have taken her as far away as Montana. TIMES PHOTO BY GREG PRICE
By Greg Price
Taber Times
gprice@tabertimes.com
The vibrant display one would see at the Barnwell Library for the month of November is from the quilting passion of Marg McCulloch.
Always a sewer as a young person, and as a young mom, McCulloch sewed a lot of clothes. But the love of quilting did not come until later, when Marg would visit her aunt who lived in Kensington in Calgary.
"There was a beautiful quilt store (Freckles Quilt Store) on 10th Avenue that was within walking distance of her house. I used to walk by there all the time and see all the beautiful fabrics," said McCulloch. "That was about 25 years ago."
Working at the Treasury Branch in Taber, not too long after that, a quilt store opened up down the street.
"I got excited, because it was a place I could spend my lunch hour shopping," said McCulloch with a chuckle. "As luck would have it, I did get into quilting and there was a quilting group at the time and it was started by Deb Klassen, and she taught classes. There's still a group that meets today at Parkside Manor with the Cotton Pickers."
Joining the club and learning the basics, McCulloch retired from banking early just to pursue her love of quilting.
"I was sort of obsessed. I retired at 55 and I worked at that quilt store part time," said McCulloch, adding quilting as a hobby is not cheap, where nowadays fabric can run $20 a metre. "A king-sized quilt, you can be looking at $600 in fabric, not counting the labour. It's hard to make any money quilting. Most people don't want to spend that kind of money. They go to Wal-Mart and spend $30 on something."
It is truly a labour of love as even a smaller offering takes hours upon hours.
"I'd say it'd take about eight hours by the time you cut everything up and sew it back all together and there's a lot of pressing involved," said McCulloch.
McCulloch is attracted to bright colours in the patterns she quilts, where often her creations are seasonal to showcase around her house and as gifts to others.
"At first, I noticed all my fabrics were reds and greens which is what sort of went with my house at that time. But now I don't care about that, as long as it's bright and colourful," said McCulloch. "But I change things up with the seasons. I have all types of wall hangings that are just for Christmas things, like table runners I change for Christmas, spring, or Halloween."
When one thinks of quilts, often the first thing that comes to mind is bed spreads, but McCulloch added applications to one's house goes far past that.
"My grandson is getting married and I'll make a lap-sized quilt with a Christmas theme, because it doesn't matter what their decor is. That's something special they can share every year. Christmas is Christmas," said McCulloch.
McCulloch sits on the library board, and felt honoured to have her work displayed at the library when she was asked, having seen eye-catching artists before her featured at the library.
"It was a good move for us (into the new library). It's a beautiful facility. It's a light and bright space that brings the kids in," said McCulloch.