Youth survey results released by Taber Police Service
Posted on November 6, 2019 by Taber Times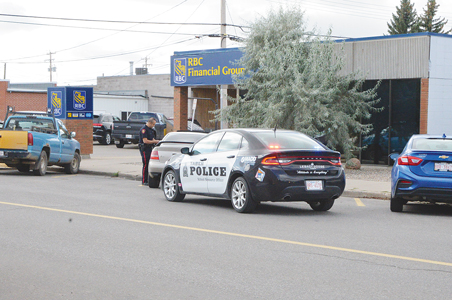 SAFE COMMUNITY: TPS School Resource Officer Cst. Chris Nguyen performs a traffic stop on 53rd Street in September. TIMES PHOTO BY TREVOR BUSCH
By Trevor Busch
Taber Times
tbusch@tabertimes.com
The Taber Police Service has released the results of the 2019 Police Youth Survey Report, and it shows strong positive percentages in several key areas including safety and community involvement.
Prepared by Sr. Cst. Andrew Evanson, the survey report asked a series of 28 questions ranging from multiple choice, ranking, and short answer responses. Included were questions to test the knowledge the youth has regarding provincial law.
"The survey results demonstrated that youth satisfaction rates regarding police performance were high," said Evanson in an excerpt from the report included as part of the agenda at the Taber Municipal Police Commission's Oct. 16 meeting. "Community involvement ranks high at over 85 per cent of the respondents agreeing that police officers are involved in the community and engaged with citizens. Over 71 per cent of youth believe that Taber is a safe place and over 80 per cent have confidence that the Taber police can keep them safe."
Lower percentages were tracked on agreement over responding quickly (49.4 per cent), crime reduction (51.7 per cent), community support (56.3 per cent), friendliness and approachability (49.4 per cent), fair and respectful (45.4 per cent), listens to youth (39.2 per cent) and meeting expectations (42.6 per cent).
Asking whether young people report crime to police was nearly split across the board, with 51.1 per cent responding in the affirmative. On the other hand, 94.3 per cent indicated they would report crime if they had been harmed or were in danger. The percentage reporting being victimized by crime was low, at 17.7 per cent. However, in reporting actual crimes, respondents indicated they would only contact police 48.3 per cent of the time, with parents a close second at 41.9 per cent, while some 22.6 per cent suggested they would not report a crime to anyone.
The youth survey is the second conducted by the TPS, with the previous survey completed in spring 2016 with 361 respondents of high school aged youth (13-19). Some of the current results which asked for anonymous comment from respondents on various issues and topics had to be redacted as they were deemed inappropriate for public release due to language, privacy reasons, or discrimination toward minority groups.
"The fear that our youth have in our community, from that data trend analysis, we suggest to you is around drug use," said TPS Chief Graham Abela. "Drug use is still a theme that rates high that our youth are fearful of, and that's in keeping with current trends that are occurring in our community."
Abela would also note that bullying and intimidation issues were another strong theme emerging from the responses collected from youth.
In the area of community involvement, 85.5 per cent of respondents agreed the service and its members were involved in the community. Interestingly, respondents would suggest the police need to make their presence felt more strongly at the skate park (33.1 per cent), playgrounds and school grounds (28.9 per cent) and the community centre and arena (22.3 per cent). Only 15.1 per cent would report having interacted with the police on various social media platforms.
Out of the respondents to the survey, 72.5 per cent were from St. Mary School. A further 11.25 per cent were from Taber Christian School, W.R. Myers High School (8.75 per cent), ACE Place Learning Centre (1.25 per cent) and Taber Mennonite School (1.88 per cent). Some 4.38 per cent were home schooled or listed under "other."
Of the respondents to the survey, 63.8 per cent were between age 13-15, with another 27.5 per cent between the age of 16-17.