Safe Haven holds community conference
Posted on October 9, 2019 by Taber Times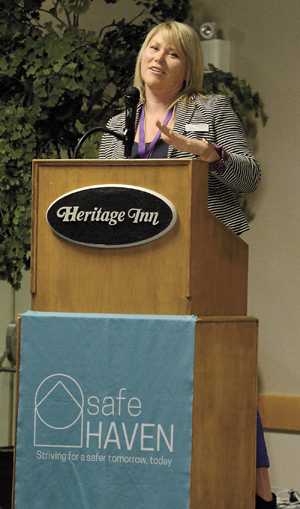 TIMES FILE PHOTO
By Greg Price
Taber Times
gprice@tabertimes.com
The following is Part One of a multi-part series on Safe Haven's Learning to Lead Conference.
Taber's Safe Haven entered new territory earlier this month when it hosted its first-ever Learning to Lead Conference: Effective Strategies to Build Safer Communities.
Born out of the funding from a Civil Forfeiture Grant, Safe Have was able to attract four separate guest speakers, examining all types of issues involving violence in our communities.
To begin the conference, Safe Haven gave an update overview of its service to the Taber and surrounding area to a packed crowd at the Heritage Inn which attracted workers from shelters all across southern Alberta, along with numerous prominent stakeholders in the Taber community.
"We don't always get to express everything that is wonderful about Safe Haven and sometimes there are things going on with misconceptions where people aren't aware of all the services we have at Safe Haven," said Catherine Champagne, executive director of Safe Haven Women's Shelter Society.
Safe Haven is a 21-bed emergency shelter with an outreach building as well.
"We have five outreach workers that work there, all very, very busy. Sometimes they have 20-plus people in each of their workloads and they work non-stop for their clients," said Champagne.
Statistics from 2018 show Safe Haven had 342 women come through its shelter, either through the emergency shelter or the outreach building. Safe Haven also had 23 men.
"A big thing that a lot of people don't realize is we do provide services to men for outreach programs. We don't have men obviously in our shelter, but there are some shelters in Alberta that are moving towards that," said Champagne. "We did service 110 children and through that we had 1,365 crisis calls. We have a 24-hour crisis line for anyone, anywhere that wants to call. We are continually improving and targeting ways to reduce recidivism and work on possibilities to embody any type of domestic violence prevention that we can."
In 2018, Safe Haven re-branded its entire organization, in which attendees at the conference were given swag bags highlighting the re-brand.
"We had a kind of outdated look before and now we have a bunch of new things we are really trying to get out in the community. More so at Safe Haven than Safe Haven women's shelter because we are so much more than just a women's shelter," said Champagne. "We have hosted multiple fundraisers in the community and we thank those who have supported them. We have represented Safe Haven for women's shelters at the Canada level in Ottawa and we've revamped and re-booted our kids and teens outreach program groups."
Other changes include a summer day camp that has partnered with Horizon School Division, which is free to kids as Safe Haven targets families from lower incomes.
"We have created and developed our own outreach youth essentials program. KidSport is an awesome program that allows kids to go to extra-curricular activities in sport and gives them that option. But, there are some things that fall through the cracks that don't qualify for KidSport, so we were able to obtain a grant from Telus and we provide our own KidSport thing in dance, martial arts etc.," said Champagne. "Parents have to make that commitment level that they will take them to all the classes, but we will pay for the classes, making sure those kids have something to look forward to and keeping the kids on track with regular activities."
Safe Haven has ventured into implementing a teen-dating violence awareness campaign which started in February of last year.
"In Teen Dating Violence Awareness Month (February), every day we posted some sort of statistic. We went out to schools with our child youth outreach. We really wanted to get out to the schools and show them what teen dating violence was like," said Champagne. "It can be so many different forms, and it's not just physical. We wanted to let them know we are open and accessible if they need someone to talk to and be part of our outreach services."
In working with the Town of Taber last year, November was officially declared Family Violence Prevention Month, as Safe Haven managed to buy a van for its clients.
"It is something we've been wanting to do for a long time. Transportation in rural Alberta is a barrier for many. Being able to transport clients, transport kids and use it for our summer camp, it's worked out really well," said Champagne, adding Safe Haven was also able to assist 34 families in its Adopt-a-Family program for a better Christmas. "There are a lot of businesses in this town who give us donations to help us with that."