Grizzled veteran or fresh-faced rookie, stories are bountiful in choosing to serve
Posted on October 9, 2019 by Taber Times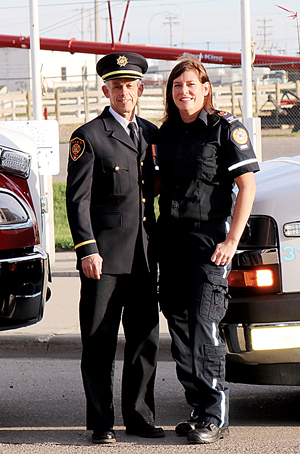 STORYTELLER: The Taber Fire Department has all types of affects on people that walk through its halls. For Clarence Bos, he was able to meet his wife while volunteering as a firefighter, as the couple proudly celebrated their 25th anniversary earlier this year. TIMES PHOTO SUBMITTED BY CLARENCE BOS
By Greg Price
Taber Times
gprice@tabertimes.com
Fire Prevention Week is this week in Canada, and all sorts of people answer the call to help make their community a safer place as a volunteer firefighter.
For the Taber Fire Department, you have your veterans like Clarence Bos.
Bos has served for 29 years with the Taber Fire Department, where he currently serves as chaplain.
Emergency services is where Clarence would find his future wife Melanie, as the couple recently celebrated their 25-year wedding anniversary together.
"As with any major milestone, you tend to look back and reflect," said Bos of his wife who would join emergency services (ambulance) two years after he joined the fire department. "Looking back, we have 56 years combined of service together between us. Having a spouse who is cross trained and involved in fire and EMS has been valuable for me because she understands the dynamics of the calls that I go to as well as she trusts in the people we respond with and the level of training we have. On the flip side, she also understands the hazards that I face and how quickly things can escalate on the call which can create some anxiety. This certainly goes both ways for me as well."
The two have managed to raise four daughters and now have one grand child as they continue service to their community that has had its joys and hardships in finding that balance for life both in and away from the emergency services building.
"It's helped the married life, but there are two sides to the coin if you will. It certainly gives us an understanding of each other. If we both experience a bad call, we can relate. We can be there for each other," said Bos. "But, sometimes we can take those stresses back to our relationship and it can have an affect if it's not managed properly. As you enter new seasons of life, you are always adjusting. When I first joined as a single guy, I gave 120 per cent of my time here, it was all encompassing and all consuming. I probably spent more time here than I should have with focusing on my business at the time. I see young guys come in with that same enthusiasm and in my role of chaplain, I try to temper that a little bit. That's good, to be passionate about what you do, but make sure you keep that life balance. You have to maintain your relationships at home. As I got young kids, I had to pull back, but as they got a little older and independent, I could devote more of my time back to it (fire service)."
With their first child born back in 1996, Clarence and his wife have helped with many extracurricular activities with their kids along the way including sports, where with decades in emergency services has created a corresponding protectiveness for their offspring.
"I think we have become overprotective as parents —absolutely. Overprotective in the sense that we are aware of how quickly things can change for the worse and some of the hazards and impacts that they can have on them," said Bos. "Going to calls where children are involved, certainly after you've had your own children, you do go home and give them a bit tighter hug knowing life can change really quickly. We see it on a fairly regular basis."
Serving as chaplain, Bos is the shoulder to lean on as a buffer for the stresses his fellow volunteers have to go through attending some emotionally-taxing calls. But, he has to look after his own self care as well in balancing married life, four children, work and his volunteer efforts.
"If I allow myself to get worn down and burnt out, then I'm not good to anybody in my service to the department in supporting them as well," said Bos.
In Clarence's nearly 30 years of service to the Taber Fire Department, he has seen eight fire chiefs, seven deputy fire chiefs, and is going to his third fire hall, where there have been hundreds of people that have joined the fire service and moved on in his time. In all that time, he has seen plenty of evolution in fire fighting.
"Suppression and rescue techniques have changed dramatically due to scientific research and as such we need to constantly be training to new methods and refining old methods. Building design has also changed for increased life safety; however when they start on fire they are more aggressive type of fires due to increased truss spans and synthetic materials that are being used," said Bos. "Safety requirements have also required that we do things differently and that we have minimum standards and certifications in place before we send our people in. When I first joined, once we had an orientation on breathing apparatus, we were allowed to go in a burning structure. Training was mostly done in house on Tuesday evenings only and if we were lucky we might be able to go to a specialized training in Vermillion at the fire school one week every few years. Now, we do extensive training to Professional Firefighter certification level NFPA 1001 level 1 and 2 over the course of a one year before we send our people into a hostile environment. When I joined the ambulance 28 years ago all that we needed was St. Johns 1st Aid certificate to run a call. Those requirements have changed dramatically and the scope of practice has increased as well."
Those changes have included taking better mental care as well. Bos added the 'suck it up attitudes' of decades past have gone the way of the Dodo, where previously people were encouraged to hide their emotions.
"From a mental health perspective, many changes have evolved as well as there is a greater understanding of the effect of the stress and trauma we experience and witness. There is a more open culture to talking about these calls," said Bos. "In the "old days," we would bottle up our feelings and tend to drink more alcohol as a coping mechanism. We know that only exacerbates the problem and we do more one on one debriefings and peer support."
Bos loves his role of chaplain, where he says he can use his 29 years of experiences with emergency services in Taber to help guide his fellow volunteer firefighters to a more fulfilled life in balancing their duties, both mentally and physically.
"When you look at emergency services, there's a reason the stats are high for divorces and relationship break ups, alcohol abuse, substance abuse, or even suicide where it's higher than the national average," said Bos. "It's because of the stressors that we face on a quite regular basis that other people don't. I'm hoping I can make a difference with that."
One of those volunteer firefighters Bos has helped guide as chaplain is rookie Steve Wright, who has served for about eight months now.
It was the department's Chief for a Day program for elementary school kids that hooked his interest.
"My daughter won the chief (colouring) contest and we came and I talked with Captain Swarbrick and the chief. It was getting out in the community for me a little bit more and getting my name out and helping people in the community," said Wright. "Personally, it's helped me be more personable and helpful. The training here is great."
Wright admits it has been a bit of a transition for his family, with five children in tow (three boys, two girls), having been married for 11 years.
"My family has been very supportive. It was a little bit of a transition with the wife and her work schedule and my work schedule and being available for the training nights. But we made it work," said Wright.
The children were super exited that their dad was a firefighter, but Wright admits there was some stuff lost in the translation after his daughter won the Chief for a Day contest for her grade level.
"She actually thought I was becoming THE fire chief," said Wright with a chuckle. "I'd had to tell her, no, just a regular firefighter."
Attending calls when he can, he sometimes brings his kids to the hall where they have helped serve by perhaps cleaning up the parking lot or other tasks around the work space.
For someone who works 12-hour days, five days a week, alongside family time of a wife and five children, Wright still finds time to serve as a volunteer firefighter.
"Life is busy. But, I'm a motivated guy. I'm up at 4 a.m. and I go to the gym with my wife. I find if you slow down, you end up stopping. I deal with stress well. Some days I feel busy and tired, but that's life. You either choose to stress about things, or roll with it and do your best and keep pushing," said Wright. "To tell you the truth, I just thought it would be cool to be a firefighter. But, it's more than that. It's an excellent experience with great training. It's like having another family. All the guys are super awesome and will help you whenever you need it."
Wright recommends becoming a volunteer firefighter if one is looking to help their community.
"It's a great way to help the community if you have the heart and the go. I'd say give it a try. What better way to be out helping the community," said Wright.