Team name change for D.A. Ferguson Middle School
Posted on October 2, 2019 by Taber Times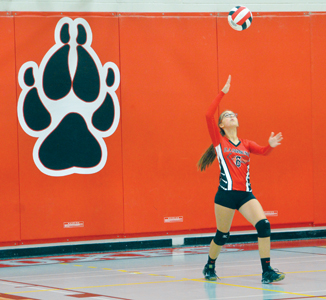 SERVES UP: Spectators of D.A. Ferguson Middle School's volleyball tournament were able to check out the school's new uniforms and logo as a part of their rebrand to the Foxes. TIMES PHOTO BY COLE PARKINSON
By Greg Price
Taber Times
gprice@tabertimes.com
D.A. Ferguson Middle School has come with a lot of changes, with a new principal and new school identity.
Replacing retired principal Holly Godson is Darryl Moser, who comes over from Central School just down the block.
Joining him is new teacher Kurtis Caldwell, who was a student teacher last year, and he will be teaching Social Studies. Joining Moser in a new administrative role will be Kim Hutzul, who will be vice principal, moving over from Dr. Hamman.
"It has been very busy. We spent a lot of time here in the summer trying to get our heads around the programming and staffing, doing our best for when the students arrived," said Moser.
"It was an exciting first week of school. We had an unveiling of our new sports team name and logo. We are no longer the Dust Devils, we are now the D.A. Ferguson Foxes. All the kids received a T-shirt with the new logo. It's exciting to see how often the kids are wearing the shirts to school."
With the new sports identity comes a new gym floor with the recent modernization the school went under alongside W.R. Myers.
To celebrate the new digs, D.A. Ferguson hosted a volleyball tournament this past weekend, where Moser added it was the first time in four years the school had hosted one.
Moser added with athletics, the school hopes to offer a strong and well-rounded education the academics and arts as well.
"For academics, there are a few new options we are offering this year. One of them is a rocketry class and another popular one we have found that is is the science dissection class," said Moser. "Another popular one is Mrs. Krchnak teaching a Super Sports option. What they've already done is have an afternoon of kayak training at the Trout Pond."
The school's modernization has allowed D.A. Ferguson to now have its own space for a library/learning commons.
"It was built in the middle of our school and it is really becoming the heart of our school," said Moser. "Lots of kids gather there, not only for school work, but to socialize for their various clubs as well."