Students exploring various interests at L.T. Westlake with assigned block
Posted on September 25, 2019 by Taber Times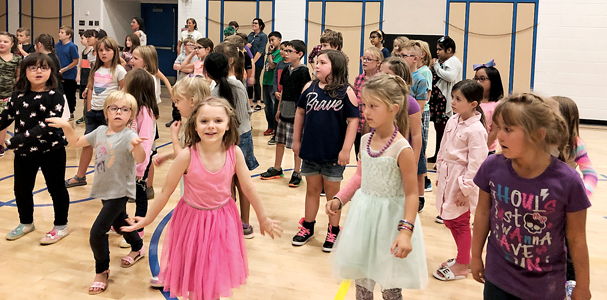 DANCE FEVER: L.T. Westlake Fine Arts Elementary School students showed off some of their dance moves during the school's opening assembly at the beginning of September. TIMES PHOTO SUBMITTED BY REBECCA EDWARDS
By Greg Price
Taber Times
gprice@tabertimes.com
L.T. Westlake Fine Arts Elementary School is promising exploration for its students for the 2019/2020 school year.
In keeping with the school's mission and desire for continuous improvement, L.T. Westlake has implemented an Exploration block, which begins in October.
"During the Exploration block, students will get to choose from three to five options (i.e robotics, cooking, photography) each quarter to participate in. Our goal is for students to explore their interests while learning. This block will allow us to provide more fine arts opportunities to our students. We are super excited for this to begin," said Rebecca Edwards, principal at L.T. Westlake Fine Arts Elementary School.
In addition, to further support student learning, Ms. Shaw will be running an additional support block.
"She will be working with students who require some additional assistance in literacy and numeracy. This block will enhance the programming at L.T. Westlake," said Edwards, adding teachers are also embarking on a concept- based learning book study this year. Teachers will continue to learn about concept-based learning and implement ideas into their instruction. Concept-based learning has been proven to increase student engagement and understanding of concepts."
While there are no new teachers at the school embarking on these concepts, the halls will be little emptier without the presence of Mary Bennett, who decided to retire, leaving behind decades of influence at the school.
"Mary began working at Westlake in 1976. She ran our speech program for over 30 years. We are beyond grateful for all of her work and commitment to L.T. Westlake. We are going to miss her dearly," said Edwards.
As Westlake is highly committed to doing activities and bringing in fine-arts experts to enhance programming, the school will have a busy slate for the upcoming year.
In October, the school will feature Joe Porter from CASA, to do a day-long drumming workshop with students.
In November, L.T. Westlake will be sending its choir to Lethbridge to sing with the Lethbridge Symphony.
In January, Angie Higa will be at the school for several days to do POUND classes with students.
"POUND allows students to explore rhythm and movement while simultaneously getting an aerobic workout," said Edwards.
At the end of January, the school will have Steve Harmer do a performance on the importance of being kind.
"We also look forward to other school activities such as our annual Celebration of Learning night in January and our Talent Show in the spring. We are always coming up with new activities for our students and community; so stay tuned," said Edwards.
Enrollment is down at L.T. Westlake, but fluctuates depending on the catchment population, where Edwards expects it to rebound.
Whatever the student population, educational philosophies stay the same at the school.
"We are very focused on our school's mission that L.T. Westlake School community, students, staff and parents have unique gifts and abilities. It is our privilege to find out what these are, explore them, develop them, share them and celebrate them," said Edwards. "Every student has potential. I am amazed every single day by the ideas that our students come up with or their growth. It's one of the best parts of my job."
And in fulfilling its philosophies, L.T. Westlake has seen numerous upgrades to its building.
Last fall, the school upgraded its desktops to flip-touch Chromebooks to ensure purposeful technology integration.
"This change allowed us to convert our computer lab into an art room. The room is now equipped with storage for art products, hanging drying racks for colourful paintings, a sink and plenty of space for the students to be more creative and explore their artistic side without previous size constraints," said Edwards. "Besides being an art room, Westlake staff and students have used this space to conduct science experiments, complete robotics units and large-scale CTF challenges, such as creating clothes out of recycled materials. Everyone has loved using the room so far and we are excited for all of the projects that will come out of there this year."
Thanks to the support of the division office, L.T. Westlake was able to update the gymnasium sound system with brand-new speakers and sound controls.
"We are positive that this addition will make all of the performances happening at our school even more amazing," said Edwards, adding the school's counsellor's room has been redone as well. "The room is now a very cozy and calming place. It is the perfect space for people to have a chat in. Our students say that the space is a 10."