Chamber of Commerce hosting candidates forum
Posted on September 25, 2019 by Taber Times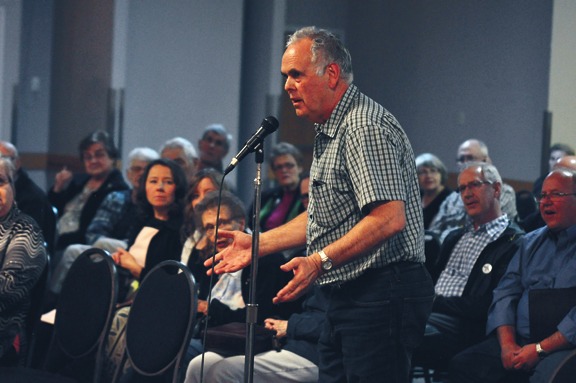 ROMAN FORUM: Former mayor Henk De Vlieger asks a question during the federal election forum in 2015. TIMES FILE PHOTO
By Greg Price
Taber Times
gprice@tabertimes.com
The battle lines have been drawn for the nation's future, and the Taber and District Chamber of Commerce is helping local citizens become more informed with their vote in the upcoming federal election in October.
The Chamber is hosting a Federal Election All-Candidates Forum at the Taber Legion on Wednesday, Oct. 2 at 7 p.m. and will be moderated by the Sugar Town Sweet Talkers.
"We've hosted other debates (municipal and provincial), it's to get people out to vote. It's a federal election and a lot has happened in the last four years," said Rick Popadynetz, president of the Taber Chamber of Commerce. "As a chamber, we advocate for all businesses and with good governance comes good business."
Taber and Chamber of Commerce had a meeting on Monday night to discuss the overall format of the forum where the chamber is encouraging residents to send questions in advance that people would like to ask candidates to taberchamber@gmail.com. With past forums usually held at The Heritage Inn, it will be tried at the Taber Legion Hall this time around.
"Things may change a little bit, but for the most part, you'll have your standard minutes of the public getting up and asking their questions. This is a huge riding, from Taber all the way to Chestermere. Being able to get candidates here is big for the town. There are a lot of candidates running in this federal election," said Popadynetz. "I see a lot of different names and a lot of different parties."
Potential candidates that will be showing up at the All-Candidates Forum on Wednesday, Oct. 2 at 7 p.m. at the Taber Legion Hall are: Martin Shields (incumbent, Conservative), Lynn MacWilliam (NDP), Riny Tuithof de Jonge (Green), Thomas Ikert (People's Party) Thomas Lipp (Christian Heritage Party) and Julien Malo (Rhino).
Youth is being involved as well in Taber as W.R. Myers is hosting a forum for federal candidates, where students and their parents will get to see what the platforms are for the various candidates on Friday. Oct. 4 at 10 a.m.