Wellness at the forefront for St. Patrick Elementary School
Posted on September 18, 2019 by Taber Times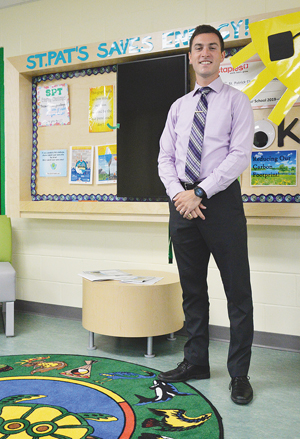 NEW YEAR: St. Pat's associate principal Sean Ethier and staff are ready for another exciting school year. TIMES PHOTO BY TREVOR BUSCH
By Trevor Busch
Taber Times
tbusch@tabertimes.com
With an enhanced focus on wellness for the student body, St. Patrick Elementary School is primed for another successful year in 2019-2020.
"We're establishing a Wellness Block, that's something new for this year. Our school day is split into three teaching blocks divided up by two nutrition breaks, and so now our second nutrition break of the day is now being called the Wellness Block," said associate principal Sean Ethier. "So we've extended it by 15 minutes, so now it's 45 minutes total, and after the students are done eating they have the opportunity to join a club, do some mingling with different grades that they don't usually get to play with throughout the day."
Ethier explained the expanded time slot is designed to allow students the freedom to choose what activities will best suit their learning experience.
"The reason why we're establishing this is kids need time to play. Fifteen minutes recesses are great, but if they've got that half an hour to maybe go to the gym, blow off some steam there, join a group or club, maybe get some extra help from one of the teachers. It's really up to the students — that's why we're calling it a Wellness Block — whatever that student needs during that day, during that moment, we can hopefully provide for them."
Enrollment numbers have been largely status quo for St. Patrick School for the year. New teacher Pam Dejong is adding her skills to Grade 1.
"This year we have a new Grade 1 classroom, so we're kind of expanding our Grade 1 group, our early learning program. Our numbers have kind of stayed the same as to where we were last year, so we're happy with that," said Ethier.
Students are offering their views on what kind of playground development the school would like to see since the demolition of their former structure last year.
"We tore down our old wooden play structure at the end of last year," said Ethier. "So now we have that big vacant spot, and we have a group of students that are designing a natural playground. So with the help of our parent council, as well as some other donations, we are trying to put in a natural playground, and it's all going to be student designed."
Investigations into what students would like to see incorporated into the new development were conducted last year.
"At the end of last year, our Grade 2-3 teachers as well as students took a trip to Lethbridge to play on some natural playgrounds. They went to Henderson Park, our Holy Spirit early learning school has a natural playground already in place — and so they went and took some ideas, and then came together as a big group and took the top five ideas. And so they're actually putting a plan in place to build our new natural playground here," said Ethier.
Staff and parents are gearing up for tonight's Back to School BBQ, with blessings for new families at 5 p.m. followed by the BBQ at 5:30 p.m.
With funding under threat from Alberta's new UCP government, Ethier reports the school is trying to maintain a newly-minted breakfast program.
"We established our breakfast program last year, and we saw some amazing things from that. With the new government and everything coming in this year, we're trying to re-establish that breakfast program, making sure that it's something that we can do every year. We will be having a spaghetti supper fundraiser to ensure that breakfast program is maintained throughout this year and years to come as well."
With an eye toward environmental responsibility, the school will be utilizing prize dollars earned in 2018.
"Last year we were recipients of the Superpower Your School grant from Staples Canada, so we will be using the $20,000 prize to further our STEM program with more reusable energy education as well as more classroom technology to assist with educating the students on how to help our planet," said Ethier. "We're excited and looking forward to this year."