St. Mary School begins its new three-year faith cycle
Posted on September 18, 2019 by Taber Times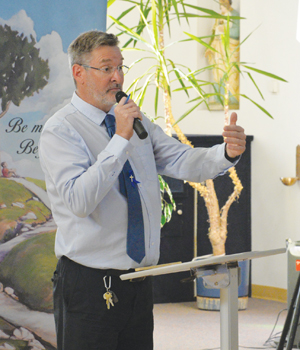 GREETINGS: St. Mary School principal Randy Spenrath welcomes those in attendance at the school's Welcome Back Barbeque hosted last week at the school. TIMES PHOTO BY COLE PARKINSON
By Greg Price
Taber Times
gprice@tabertimes.com
St. Mary School has embarked on another journey for a successful year of faith-based education for 2019/2020.
School staff has remained the same as last year to go with a slight bump in student enrollment.
"That stability is nice. I think it's the first time we have had continuity in staff for the last number of years," said Randy Spenrath, principal at St. Mary School. "It looks like we are up slightly for students. When I say slightly for a smaller school like us at around 225, we are up slightly like four students. Any increase is positive."
Fred Fox, older brother of iconic Terry Fox came to the school to speak ahead of the town-wide Terry Fox run which occurred this past weekend and St. Mary School holds its own run.
St. Mary School is entering its new three-year faith cycle in its education theme. It is entitled 'Making our Mark: A Journey of an Intentional Disciple.'
"Each of the years in the three-year plan has its own theme. Our first-year theme is simply 'Beginning the Journey'," said Spenrath. "The call to action for 'Beginning the Journey' is to be mindful of God's presence and to be prayerful."
The sporting season has gone full throttle for St. Mary School athletics with the St. Mary's Auroras girls volleyball team having played its first league game already and the St. Mary Celtics boys volleyball team winning its first tournament of the season.
"The gym is always busy. We are off and running. We are completing all our tryouts for our junior high and Grade 6 teams," said Spenrath. "We haven't had morning practices yet, but there's going to be some days where it's six in the morning until nine at night the gym is being used."