MLA Hunter weighs in on blue-ribbon report
Posted on September 18, 2019 by Taber Times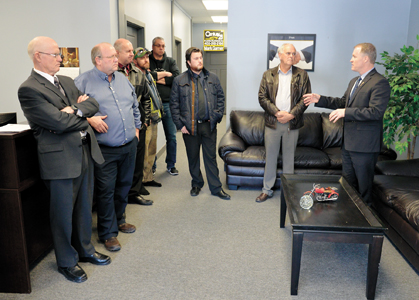 TIMES FILE PHOTO
By Trevor Busch
Taber Times
tbusch@tabertimes.com
Alberta's blue ribbon panel report on the province's finances delivered earlier this month targeted everything from the deficit to public sector salaries for reform in the UCP's upcoming October budget.
Also known as the MacKinnon report after its chair, former Saskatchewan finance minister Janice MacKinnon, the report recommends cutting the operating budget by $600 million annually, legislating the salaries of public sector workers, and substantially reducing capital spending.
All of which could mean provincial austerity measures may be on the horizon for Albertans in late 2019.
"I think that they did an exhaustive, deep dive into where Alberta's fiscal situation was, and is, and gave us an idea about what it's going to take to get back to balance," said Taber-Warner MLA Grant Hunter, who also serves as associate minister of Red Tape Reduction. "I'm on Treasury Board, so I would say that I had a little bit more information than most Albertans, but I think the fact that it was an independent panel, not directed by any department or government, really helped us to gain that better understanding about — and to validate — some of the things that we were seeing in Treasury Board and in government."
Other recommendations from the panel's report suggested allowing private clinics to perform day procedures, ending a freeze on post-secondary tuition, utilizing private sector providers for some services and eliminating lower priority programs.
"It targeted everything," said Hunter. "Basically, in terms of overarching, it said that we're spending about $10.4 billion more than the average of the three largest provinces, Quebec, Ontario and British Columbia. This was really what was the eyeopener for most Albertans — I've received and fielded a lot of phone calls based upon just that one sentence in the MacKinnon report. Taxpayers always ask the question are you spending at the correct levels? Are we getting best value for our tax dollars?"
The six member panel headed by MacKinnon was appointed by Premier Jason Kenney in May to analyze what would be required to wrestle the government's finances back into the black.
"Really, we're elected as MLAs to be careful stewards of that precious tax dollar, and to be able to provide those services that Albertans need. So I think they've got some really good recommendations in there. This is obviously going to be a report that we will use to be able to inform us in the upcoming budget deliberations," said Hunter.
One of the key findings in the report — that Alberta spends around $10 billion more than Quebec, Ontario and British Columbia in areas like health and education, sometimes with worse results — often comes down to outcomes, according to Hunter.
"Well obviously they're doing something better than us because their expenses are a lot less than ours. And it's not just about expenses, but outcomes. Their outcomes in many ways are better than ours, they spend less dollars to do it. We've just received the report, it hasn't been out for very long. I think that there's a lot of analysis that we can do. Those cross-jurisdictional analyses have to be done now in order to be able to find out what those best practices are, and how we can replicate those here in Alberta. So that's what we have to do now. We've got a lot of work ahead of us in order to be ready for the budget in the fall, and I think it's going to be more telling in the fall about deciding where we go."
With a target to balance the budget by 2022-23 by slashing operating spending and reducing capital expenditures, the report places a tall order before the province's legislators.
"It's an attainable goal. Absolutely it's an attainable goal," said Hunter.