Increase in chamber membership fee suggested; Strojwas
Posted on September 11, 2019 by Taber Times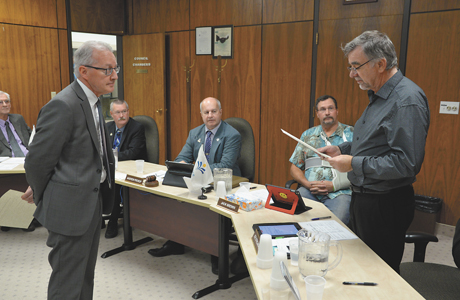 TIMES FILE PHOTO
By Trevor Busch
Taber Times
tbusch@tabertimes.com
The Taber and District Chamber of Commerce isn't asking for any additional funds in their 2020 allocation from the town, but Coun. Joe Strojwas believes the organization should be passing on more costs to its membership.
There is no change to the 2020 approved budget amount of $20,000. The chamber is seeking a $21,000 allocation in 2021, followed by $22,000 in 2022.
"We encourage shopping local, and we advocate for our local members and any businesses that are in town or the area," said chamber director Bruce Warkentin at town council's Sept. 3 special meeting. "We are a board of about a dozen people who are locally employed and are interested in bettering the local economy through various efforts."
Revenues for the chamber in 2020 come in at $97,000, with expenses of $86,100. In 2021, revenue is expected to be $99,000, with $88,100 in expenses, and in 2021 revenue is estimated at $101,000 with expenses of $90,100. The chamber is reporting a net income of $20,000 in all three years.
"In the past five years since I've been coming here, we've asked for $20,000 per year," continued Warkentin. "Our request is not substantially different from that. As you all know there are some cost escalations with wages and costs — things don't stay at a zero per cent increase."
Cornfest is budgeted $175,000 for 2020-2022, with estimated expenses of $165,900. The annual dinner and Midnight Madness come in $10,000 and $1,500, respectively, for all three years. The chamber also operates the town's Tourist Information Centre.
"You made mention that costs are going up every year, but yet I don't see you passing those costs on to your membership," said Coun. Joe Strojwas. "You've got a straight line at $30,000 across."
"Fair statement," replied Warkentin.
"How long has it been since the membership fee, there was an increase?" asked Strojwas.
Warkentin indicated it had been roughly two years.
"It might be something that you might want to reflect on," said Strojwas. "All businesses are quite aware that costs do go up, as you've indicated. An increase there might be a wise decision. Better to put up a small one than a large one down the road."
Referencing the Cornfest Stage in Confederation Park that was erected by the chamber in 2016, Coun. Mark Garner felt this contribution needed to be factored in before leveling criticism of the chamber's fee structure.
"I agree with Councillor Strojwas, but would also remind everyone that three years ago the chamber donated a $153,000 facility to the town, which we have got really good use out of, not only the town, but the chamber and various other groups. You have to take that into consideration, too."
Warkentin also explained that the chamber is building a financial reserve for the future construction of a new building for the organization.
Following discussion, council voted unanimously to receive the request for funding from Taber and District Chamber of Commerce, and further requests that administration include this amount for consideration in the Town of Taber 2020 amended and 2021 – 2022 budget deliberations.