Horizon draws concerns over minor roof leak during modernization
Posted on September 11, 2019 by Taber Times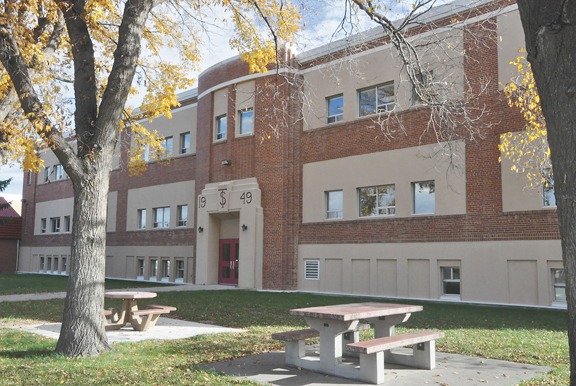 TIMES FILE PHOTO
By Cole Parkinson
Taber Times
cparkinson@tabertimes.com
With school back in session, work at W.R. Myers High School and D.A. Ferguson Middle School is continuing to progress as construction reaches Phase 2.
With Phase 1 mostly complete and staff and students moved back into the modernized portions of the schools, there are still a few items that need to be checked off before the first portion of construction can be deemed fully complete.
"It's still on the go. I guess the warranty has just started on Phase 1, which is a one-year warranty. There are still a few deficiencies but they have a year to fix those up," said Bruce Francis, vice-chair at the Horizon school board's regular meeting on Aug. 28.
While Phase 2 has started, one area that will need maintenance in short order is a leak in the roof.
"They have started Phase 2 on that project and there's not too much to discuss. The biggest thing was, we've had a few problems with the roof leaking. We are working with the contractors on that," explained Francis. "Jake (Heide, facilities manager) will be following up on that and hopefully they can figure it out."
While it is a fairly small leak, the board and administration acknowledged that could create bigger problems down the road if not repaired soon and properly.
The board also questioned if the roof was part of the modernized work or if the puncture was due to other work.
"That roof is not modernized but they did punch through the roof at some point. The question is, is the leak in the roof or where they penetrated through the roof?" said Wilco Tymensen, superintendent of schools.
Another positive development for the school comes from another project that wasn't in the actual capital project.
"It's not part of the actual capital project but it is because we put the money up for it, but the heat pump replacement for W.R. Myers is just about complete,"added Francis.