Trout Pond development entering new phase
Posted on September 4, 2019 by Taber Times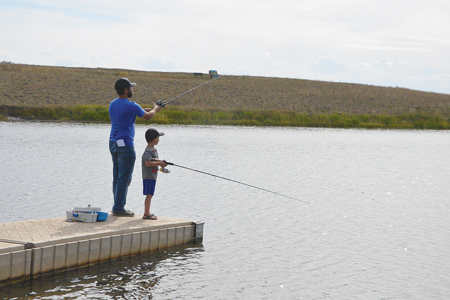 TIMES FILE PHOTO
By Trevor Busch
Taber Times
tbusch@tabertimes.com
As part of an ongoing effort by the Town of Taber to redevelop the Trout Pond area, town council is utilizing almost $475,000 in capital reserves to push forward with Phase II of the project.
The project scope will include Loop 1 with nine RV stalls and an access road, electrical to Loop 1 with 30 amp sites with potential for growth to accommodate 34 more stalls with 30 amp service; irrigation vegetation consisting of 180 trees and shrubs with a variety of species suitable for the area in various stages of growth, along with a bubbler irrigation system with potential for expansion to additional camp areas and vegetation; an irrigation pump house sized to accommodate future needs; and a pre-cast concrete washroom (wheelchair accessible) with a septic tank.
"Why did we decide on 30 amp stalls and not 50 (amp)?" questioned Coun. Jack Brewin at council's Aug. 19 meeting. "That's the way to go nowadays."
Recreation director Dawn Phillips explained that 50 amp sites were considered, but it was ultimately decided to install 30 amp sites.
"I think the discussion was that you often see more 30 amp, and there's the occasional need for a 50 (amp), with the pricing becoming prohibitive as we're adding another 34 stalls. So the discussion out there the decision was to go with 30 (amp). There was a discussion around potentially one stall with 50 (amp) if you ended up having a year-round caretaker. But we did go with the 30 amp."
Brewin felt this might be short-sighted if the town is looking to plan for the future.
"That was my only concern. Are we thinking about the future by only going with the 30 amp cable now. Should we not be thinking about 50 amp for the future?"
Mayor Andrew Prokop commented the Municipal District of Taber Park currently utilizes 30 amp sites, and felt administration's recommendation to be sufficient for the Trout Pond's initial stages.
"I think that's something for exploration further down the road, but this is the base start."
Public works director Gary Scherer pointed out there is still room for some negotiation with the contractor if council desired 50 amp service in the campground loop.
"Within your recommendation, you have the opportunity to negotiate with the contractor. We can bring that forth with additional pricing. But I don't see a huge adjustment here. I know there's going to be some cost savings as we move forward…but we could put this forward and see the cost implications."
Coun. Carly Firth was satisfied that 30 amp service would be adequate for the needs of the public.
"We do a fair bit of RV camping. Most of the campgrounds that we stay in are 30 amp, it's enough to run your air conditioner and your microwave. So in my opinion, 30 amp would be more than sufficient for these stalls."
The town received two bids for the project, from Inphase Electric Inc (Taber) for $474,545, and Caliber Landscaping Ltd. (Coalhurst) for $359,311.
Even though they were not the lowest bid, Inphase submitted a detailed work schedule including material specifications that indicate a clear understanding of the project.
"In this case, we know what we are getting for the proposed pricing," stated administration in their background to the decision. "The proposal from Caliber Landscaping did not clearly indicate the level of detail that we were expecting and it is unclear as to what we are getting for the price submitted. It is our determination that in going back to get the same detail from the lower bidder along with the associated pricing would likely drive their price up as well. Inphase Electric Inc. has also clearly named each of their sub-contractors, all of whom operate a business within the town."
The overall budget for Trout Pond development is $544,188.91 in 2019. The Trout Pond Committee establishes priorities for the next phases of development.
Coun. Mark Garner wanted to make sure that trees and shrubs would be well protected in the largely exposed area of the Trout Pond.
"Just a point of clarification. One hundred and eighty trees, and 180 shrubs — having lived out that way for 15 years, are those trees going to be staked and some cages put around them? If not, the wind and the deer are going to annihilate them within a month."
Phillips confirmed this was part of the project scope.
"I believe in the proposal with Inphase they did address that."
Following discussion, council voted unanimously to award the Trout Pond RFP to Inphase Electric Inc. for $474,545.00 plus GST; and that administration be given the opportunity to negotiate the scope of work and detailed design when finalized.
The funds are to allocated from 2019 capital reserves.