Town council may not be horsing around with bylaw
Posted on September 4, 2019 by Taber Times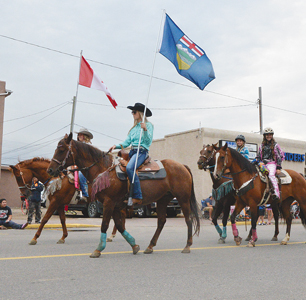 TIMES FILE PHOTO
By Trevor Busch
Taber Times
tbusch@tabertimes.com
Taber town council has never been opposed to cowboys on the streets, but after passing a recent resolution that may not apply to the horse they rode in on.
On June 10, council had discussed concerns about riding horses within town limits along 80th Avenue, and had unanimously passed a motion directing administration to bring forward Traffic Control Bylaw 6-2005 for review on June 24.
At that meeting, council voted 6-1 to direct administration to draft an amending bylaw for Sec. 15.09 to allow the riding of horses within town limits.
Section 15.09 currently states "no person shall ride, drive, walk, any horse or any other animal, with the exception of small pets on a leash, in or on any sidewalk, trailway boulevard, park, highway or any other public place within the Town of Taber."
In a caveat to the above included as part of the bylaw, the provision shall not apply to rodeos, or parades within the town or "other activities approved in writing by the CAO and during such activities, that the driver or any other person in charge of any horse drawn vehicle on a highway shall remain upon such vehicle while in motion or shall walk beside the horse drawing such vehicle."
On July 15, council tabled the amendment regarding horse traffic within town limits until "further information has been received from the Chief of Police and Community Standards Officer."
In a letter dated July 23 and addressed to Chair Ken Holst of the Taber Municipal Police Commission that was included as part of council's Aug. 19 agenda, Chief Graham Abela of the Taber Police Service expressed reservations about council's recent plan to allow horses on municipal roadways throughout the community.
"I question the ability of certain people to be able to control a 1,200 lb. animal that may get spooked or otherwise bolt, and I question the risk that this brings to an urban environment," reads an excerpt from Abela's letter. "Some will argue that prohibiting horses will interfere with our western heritage, but then I ask myself this question: why does Strathmore, Cochrane and Medicine Hat prohibit horses in their municipalities? The authority of the CAO already allows horses to be used in parades and events. Is there more that is necessary?"
Abela canvassed a few "well-seasoned horse enthusiasts" and their responses were detailed in his letter, suggesting horses are no longer used for transportation and few residents ride in town, inexperienced riders can be dangerous; age limits should be in place to ensure young people don't ride in an urban area, especially alone; users should always ride in pairs, horses should not be left unattended in town, and should not be allowed to ride on sidewalks, boulevards or parks.
"When I examine the above, I see that even well-seasoned horse enthusiasts put limits in place when horseback riding," continued Abela in his letter. "Do I think that if we allowed horses in town we would have a deluge of cowboys and cowgirls riding their horses into town? Most likely not. It appears to me that if experts put limits on their own riding, then perhaps it should be up to the experts to determine who is capable of riding in town and who is not? However, the licensing that is required to do this creates a bureaucracy that is hard to manage and police (as they do in New York City). Is this really what people are asking for?"
It was also noted that a majority of riders want to be able to access open lands to ride, but are sheltering their animals at the Taber Agri-Plex and are currently unable to leave the grounds legally.
"This all started because a bylaw officer questioned a rider north of town and spoke about the bylaw prohibiting the riding of horses in town," wrote Abela. "It has been my experience that these types of questions only come up when horses and people clash…however, this happens very infrequently. Things have been good for a long time, so I ask myself, why change what is not broken?"
In his concluding paragraphs, Abela argued that "horse riding should not be permitted within town limits" but recommended some exceptions including permitting riding on 64th Avenue and north within town limits to allow for access to open lands (but prohibited in this area in the cemetery, on sidewalks, walking paths or boulevards) and under the authority of the CAO to permit horse riding for parades, events or on special application.
"This common sense approach should meet the needs of horse enthusiasts, while at the same time manage the public safety risk and liabilities that are associated with horseback riding for the public in town," stated Abela.
After reviewing the recommendations of Abela on Aug. 19, Coun. Jack Brewin was in agreement but couldn't resist the opportunity to turn a phrase.
"I don't want to be the south end of a horse heading north on this, but after reading the chief's report I see his concerns, and I think perhaps if we limit them to 64th Avenue, and on the rare occasion that horses are needed in town, I suppose they can get permission from the CAO. Basically just carry on as it is — we haven't had problems with it — so I don't see any further problem with perhaps clarifying 64th Avenue."
Coun. Joe Strojwas was also in support of Abela's recommendations, and Coun. Carly Firth put forward a motion.
Council voted unanimously to direct administration to incorporate the "official opinions" of Abela regarding horse riding within town limits and incorporate the suggested exceptions (only north of 64th Avenue, or under the authority of the CAO) into the Traffic Control Bylaw, and to bring the draft bylaw to a future meeting of council for further review.