Lost Paws donation meets gold standard
Posted on September 4, 2019 by Taber Times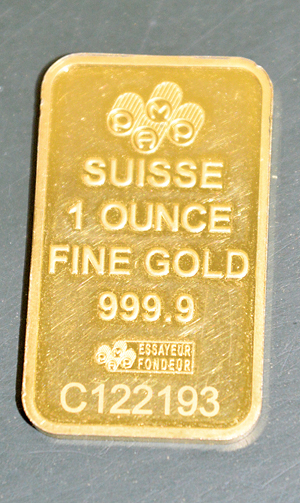 TIMES PHOTO BY GREG PRICE
By Greg Price
Taber Times
gprice@tabertimes.com
The generosity of the general public to the Taber Lost Paws Society is worth its weight in gold — literally.
As the organization continues its fundraising efforts for a new animal control facility in Taber's northeast industrial area, east of the crematorium, it came across a pleasant surprise at a pancake breakfast being hosted by Saunders Insurance to raise money for the society.
While raising $351.20 was nice as the silver donations were being counted, another donation proved golden.
"There was a $20 bill wrapped around this little gold (bar)," said Carolyn Terpstra, president of the Taber Lost Paws Society. "They (Saunders) were sort of looking at it, thinking it must be a mistake. It was wrapped up like a gift in a $20 bill. It was an anonymous donor that wanted to donate it."
Taber Lost Paws Society took the gold piece into The Goldworks in Lethbridge to get it appraised, and found it was valued at over $1,500.
"We were wondering if it was real or if it was fake," said Terpstra, of the surreal moment when society members heard of the donation of such a generous and extravagant gift. "I was like 'what?'" continued Terpstra with a chuckle. "It was such a surprise and it was so awesome. We were super excited about it. The generosity of the community is unbelievable. For somebody to do this, it makes it that much more worthwhile. You know you are in a good community when people do stuff like this."
Terpstra confirmed last week that a private citizen has offered to buy the gold bar for $2,000 to help with the society coffers for the new building.
The creation of the Taber Police Service's Community Standards Unit in 2016 included the responsibility to manage the animal control facility, which is currently situated south and east of the Town of Taber Fire Station. The town's approved capital budget included a figure of $100,000 to replace the facility, which is considered to be unsuited for its function and is "moldy and rotting away." The ultimate end goal of the Taber Lost Paws Society is to get $160,000 raised on top of that for a new animal control building. Terpstra confirmed the society has raised around $25,000.
"We already have a list of things we are going to fundraise for again in September. It's an ongoing thing. We are really pushing the fundraising and doing everything that we possibly can," said Terpstra, adding there are currently approximately 40 members of the Lost Paws Society, including the executive. "We are always getting calls from people wanting to volunteer, and they are more than welcome to fill out membership forms and join us for fundraising for the facility. We'll have a nice group of volunteers that are able to help us with the shelter once the shelter is built, for dog walking and grooming and everything."
Control of the existing facility, including daily maintenance, cleaning and sheltering of animals, is currently contracted. In late 2016, the TPS reached out to the community to inquire if there was interest in strengthening animal wellness issues, where eventually, the Taber Lost Paws Society was formed.
Several communities in southern Alberta have already adopted a society model, including the City of Brooks. The society plans to encourage a "safe and nurturing environment in a functional facility" in keeping with the concept of a no-kill facility. The society has committed to maintaining an animal control facility while at the same time providing for adoption and fostering programs in the community.
"It will be run similar to the Taber Animal Shelter where if there are dogs at large on the street that need to be picked up because of no notification, it will be brought into the shelter. After five days, if no one claims that dog, it becomes the property of the society and the society will make sure of vaccinations, neutering, spaying for that dog to be adoptable," said Terpstra. "We'd also like to do a fostering program and work with other societies. If another society's shelter is at maximum capacity and we have the room at our facility, we would be able to take them and vice versa. Our goal is to get dogs adopted and into homes, not sitting in shelters. We want to integrate them into society. Give them their forever homes."
Taber Lost Paws Society intends to seek out grants and more donations to help fund their initiative, as well as providing and promoting education about proper animal care and other issues through training and other public events.
"We definitely want to do education for the public when adopting dogs and rescuing dogs. We want to make sure they are going to the right homes. They need to understand that these dogs need responsible parents when it comes to spaying and neutering," said Terpstra. "We don't want them overpopulated in our area. You need to give them proper care, with plenty of walking. Getting a dog doesn't mean it is constantly tied up on a chain in your backyard. The dog may be really cute and lovable, and then you take it home and it's terrorizing your house and eating your couch and you want to get rid of it. That's where the training comes in. We don't want dogs getting surrendered, we want to make sure we have responsible dog owners who will give proper love and training."