Kidney March hits close to home for Taberites
Posted on September 4, 2019 by Taber Times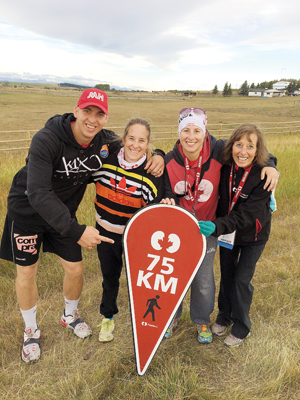 TIME MARCHES ON: Kidney disease is genetic in Jan Clemis' family, making events like the upcoming Kidney March hit especially close to home. TIMES PHOTO SUBMITTED BY JAN CLEMIS
By Greg Price
Taber Times
gprice@tabertimes.com
When Jan Clemis marched her way to the Taber Times office on Thursday to talk about the upcoming Kidney March later this week, it marked to the day, her one-year anniversary when her son Blair gave her the gift of life with a kidney donation.
Clemis has battled Polycystic Kidney Disease (PKD), a condition passed on genetically that sees cysts develop from the nephrons (filtering units) of the kidneys, which enlarges them and eventually prevents the proper filtration of blood.
"This time last year I was in a recovery room. And the miraculous thing today is Blair is at work, chefing at Canyon Meadows and I'm having a normal day out riding my bike, paying bills, making buns and inviting the kids over for supper to celebrate."
Visibly caught up in the moment, with a wide smile, fighting back tears of joy, Clemis admitted to penning letters of gratitude to her son.
"When they say organ donation is the gift of life, in that very short sentence, it is so to the point. I no longer have those three trips a week for dialysis, 25 hours a week back and forth to Lethbridge," said Clemis. "To get back your life, my heart is full of gratitude. The community that has supported me, all of Taber with well wishes. Each day, I wake up and I see that picture of Blair in high school on my night stand, I say thank you. It's indescribable, but very heart felt."
Battling the ailment for years, Clemis has either walked or served as part of the support staff for the Kidney March since its inception as it gets ready to have its 10-year anniversary in 2019. She has seen first hand how far research and treatment has come, along with awareness levels on organ donation that the Kidney March has helped with.
"The awareness is such a huge factor, and promoting organ donation. As a teacher, that education piece is big," said Clemis. "Passing on that information, I met a gal about a month ago, she is a nurse and she is in Stage 4 Renal Failure from unchecked blood pressure. As part of the Kidney Foundation, things like that are so imperative to bring awareness to."
The Kidney March spans over three days, where participants trek 100 kilometres, starting in Millarville, Alberta on Sept. 6, the gateway to Kananaskis Country, which eventually ends at Canada Olympic Park in Calgary on Sunday.
"A big piece of the Kidney March for me personally is Bonnie and Carli (her daughters) both have the same disease and it's genetic, having it in our family. I want to have a different future for them and I know that means research dollars in the right direction," said Clemis.
This will be Vicki Koersen's second year participating in the Kidney March, where last year she was a crew member. This year, she will be doing the march herself.
"I wanted to understand what it was about, more with the foundation and the march before just jumping in," said Koersen whose husband Ben has had to deal with kidney cancer for the last five years. Ben and Vicki's brother-in-law will be serving as crew for the march.
Each participant who decides to march, has to raise $2,200 themselves. Being it's the 10th anniversary of the Kidney March, people are coming out in droves, where it had to be capped at 450 participants — the largest turnout the event has ever seen.
The event has raised near $1 million in a given year, where that ceiling is expected to be shattered this year with the extra marchers.
"We've had to max out at 450 marchers this and I don't think we've had any more than 220 before," said Clemis. "It's the only event like this in the world."
Clemis has seen that progress first hand in research and treatment methods of kidney disease in recent years, along with Koersen in her husband battling kidney cancer.
"Thankfully still, with our experience, just the treatment options have changes so much in kidney cancer, and the survival rates have gone up. A short time again, it was less than a five per cent for five years, and Ben is still here," said Koersen. "When you think that one in 10 people have kidney disease and of the people on transplant waiting lists, 77 per cent of those are people waiting for kidneys. Our numbers are staggering in those circles," added Clemis.
Koersen added her husband is doing pretty well since his diagnosis five years ago. He has a CT scan every 3-4 months and is constantly being monitored by his oncology team.
"He has been able to avoid taking cancer medications as his team will either do radiation or surgery to remove the tumors. It helps that he has such a great outlook on life and that goes a long way to keeping him healthy," said Koersen.
Clemis and Koersen hopes in the future that Alberta becomes a province that goes to the opt out system for organ donation.
Recently, Nova Scotia became the first jurisdiction in North America to have presumed consent for organ and tissue donation. People will be able to opt out of donating their organs, but the onus will be on them to do so once the bill is proclaimed. The bill would not apply to people younger than 19 or those who do not have the ability to consent for themselves. Since being announced in April, it was expected to take 12 to 18 months after the bill passes to prepare for changes.
"You are automatically in, unless you choose to opt out," said Clemis. "Alberta is working on that tirelessly in our very own government."
"The Logan Boulet (Humboldt Broncos) effect really made a difference with transplants this past year. It wasn't just his family that did that, they were just the most public. There were effects of that across Canada," added Koersen.
As Koersen and Clemis prepare to participate in the Kidney March later this week as part of Team Nephronfabulous, if you would like to donate to the cause, you can do so by clicking on kidney.akaraisin.com/ui/kidneymarch2019/team/199555.
Team Nephronfabulous is comprised of Jan Clemis, Blair Clemis, Carli and Ross Bekkering, Vicki and Ben Koersen, Wilma Koersen and Gerry de Boer.