UCP passes pay cuts for MLAs and premier
Posted on August 28, 2019 by Taber Times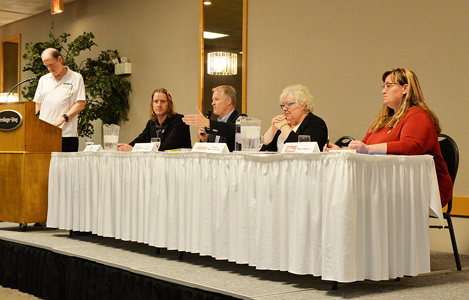 FISCAL: Taber-Warner MLA Grant Hunter — pictured here during Taber's 2019 election forum — is taking a pay cut. TIMES FILE PHOTO
By Trevor Busch
Taber Times
tbusch@tabertimes.com
The province announced a five per cent cut to MLA pay earlier this month after the members' services committee approved a rollback in line with the UCP's pre-election promise to voters.
Taber-Warner MLA Grant Hunter, who also serves as associate minister of Red Tape Reduction, approved of the move as another promise kept to Alberta's electorate.
"I think the message is quite clear. There's been a lot of pain felt by Albertans over the last four years for sure as the oil and gas has plummeted and the economy has been in the tank. What we wanted to do was meet a platform promise that as soon as we were able to, to cut the wages of MLAs. So once we got in, that's what we did."
Also on the chopping block was a 10 per cent reduction in the remuneration of Premier Jason Kenney. Both motions were passed unanimously by the UCP – NDP members on the committee.
"We took a pay cut in 2015, and we didn't take any increases obviously over the last four years, but then we took another pay cut this time," continued Hunter. "The issue is that people are suffering out there in Alberta, and they expect their leaders to also tighten the belt. So this was the right message, this was the right thing to do, and that's why we did it."
Hunter refuted criticisms from the opposition that the pay cuts are the opening salvo in planned wage rollbacks for public sector workers that could be coming in the fall.
"I don't know how to address that, other than to say that we've been very clear — we've set up a panel, the Blue Ribbon Panel, in order to be able to assess our financial situation. That is going to be finished up on August 15, and we'll be releasing that information in September. They're going to say what they're going to say — if they were in government, they could tell you with certainty. But they're not in government, we are. They're guessing. They need to probably ratchet that down so that we can get to business on getting Albertans back to work and getting our financial house in order. That's our goal, that's our plan. I'm on Treasury Board — I know what I'm seeing, and what's been presented. So we've got a lot of work to do, and no one thinks that we don't have a lot of work to do. But the information that they're sharing is that somehow they know better than we do. I'm sorry, they don't."
As of Aug. 6, the rollbacks cut salaries for MLAs from $127,296 to $120,931, while Kenney's pay has been reduced from $206,856 to $186,170. Cabinet members, who receive an additional $63,648 on top of their base salary, will see their total salaries drop from $190,944 to $181,399.
In another footnote, the committee also passed a motion to end MLA expense claims for fuel and maintenance of personal vehicles over and above their mileage rates, and will now only be able to claim mileage at seven cents per kilometre.