Town responsibility at cemetery reviewed
Posted on August 28, 2019 by Taber Times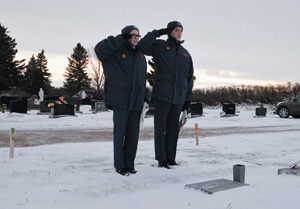 TIMES FILE PHOTO
By Trevor Busch
Taber Times
tbusch@tabertimes.com
After inquiries from the public regarding the limits of the town's responsibilities at Taber Memorial Gardens, town council has reviewed a report prepared by administration.
On July 15, council had ordered the report prepared specific to the repair and re-alignment of monuments, but administration detailed much more about the cemetery's operations. Taber Memorial Gardens is comprised of 20 acres of level ground, with seven acres currently in active use and embracing approximately 5,700 burials.
"This has come up a number of times at Coffee with Council sessions with regards to the level of service at Taber Memorial Gardens," said CAO Cory Armfelt at council's Aug. 19 meeting. "It was interesting through our investigations, which was some education for sure for myself, that through the bylaw there's not actually a commitment from administration or from the town to address monuments, yet we go to do that but it's not actually bylaw."
After research and review of department practices and of Cemetery Bylaw 20-2007 it was determined that although the bylaw specifies that the town will not provide perpetual care for the plot or grave site installations, such as monuments, administration has chosen to provide a high level of customer service to the cemetery by maintaining the cemetery grounds to ensure the dignity of the final resting place for those buried there, which includes re-aligning monuments that require attention.
Administration has found that concerns received regarding monuments in Taber Memorial Gardens that require re-alignment are often from a family member of the deceased. Commonly, re-alignment requests are due to a tilting or leaning monument from natural changes in the landscape such as thawing and freezing of the ground throughout the seasons, or gopher holes. At times graves adjacent to recent burial locations can also shift due to disruption of the ground nearby from the opening and closing (digging and filling) of a recent burial.
Monuments that are damaged — cracked, scratched, or chipped — and are in need of repair must be repaired by a licensed monument firm and are the responsibility of the owner, the purchaser, or next-of-kin. Currently the Town of Taber does not repair or fix any damaged monuments within Taber Memorial Gardens, unless they were damaged by a town employee or by town equipment in the course of their work.
In accordance with Cemetery Bylaw 20-2007 and the Town of Taber Monument Regulations, all monuments are required to sit on a concrete base. Rows H, I, J, and beyond within Taber Memorial Gardens are required to have a continuous concrete base. If there is no continuous concrete base, such as Rows A – G, a rectangular piece of support concrete or granite must be placed to be level with the surrounding ground.
"I think what we're doing now, the town is doing what it can to straighten what headstones they see, within reason," said Coun. Jack Brewin. "I think we can just let this carry on as it is."
Town council enacted the first Cemetery Bylaw in 1923, but a survey of the land as a place of rest occurred in 1909. Although it may not have been official, burial records indicate that residents were using the current site of Taber Memorial Gardens for burials as early as 1904, and possibly earlier.