MLA Hunter tweet draws ire of some
Posted on August 28, 2019 by Taber Times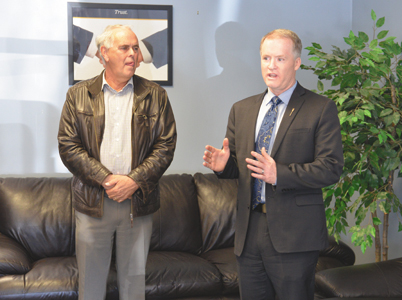 TIMES FILE PHOTO
Local Taber-Warner MLA Grant Hunter has stirred up controversy in political circles once again, this time in a tweet that was deleted quickly after it was written.
The Associate Minister of Red Tape Reduction, in trying to make a point involving his portfolio, wrote a tweet on Saturday afternoon quoting a rocket scientist in Wernher von Braun, who once served in the Third Reich.
The quote read "To conquer the universe you'd have to solve two problems: gravity and red tape," as Hunter piggy backed and linked a commentary piece by Bob Layton, praising the United Conservative government's recent decision to allow drivers to keep pink-slip proof of insurance on their cellphones.
The following day, Hunter posted the same von Braun quote to his Twitter account and shared the commentary piece.
Words he added were "We've made it clear that we are committed to reducing red tape in Alberta. Lots more to come …"
Hunter's tweet was posted at 1 p.m. Saturday, and deleted approximately an hour later. He then reposted a link to the article, minus the quote from von Braun.
Exactly how much von Braun was involved with the Nazis as an SS officer has been debated, but according to a paper in German Studies Review, von Braun was complicit in Nazi Germany's slave labour system. Under his instructions, slave labourers from Buchenwald concentration camp were assigned to the Mittelwerk, an underground factory complex in Germany used to build V-2 rockets under horrific conditions 'where more than 60,000 prisoners from the nearby Dora-Mittelbau concentration camp lived, worked and died in the damp underground tunnels.' The missiles were used in the London Blitz.
Von Braun was captured by the Americans in the final days of the Second World War, but eventually was director of NASA's Marshall Space Flight Center and designed the Saturn V moon rocket. He was heavily involved in the Apollo 11 mission.
The tweet was picked up by several news outlets, highlighting Hunter's other recent controversial comments as well.
In 2010, Hunter wrote a letter to his local newspaper, the Cardston Temple City Star, about the "high number of individuals of substance" living there. "Perhaps they just came from superior stock, but that thought reeks of 'Arian' (sic) undertones."
In 2016, Hunter was one of eight then-Wildrose MLAs who signed a column comparing the carbon tax to the genocide of millions of Ukrainians in the 1930s.
In 2018, he apologized after comparing the NDP's 2015 election victory to the 2004 Indian Ocean tsunami in a Taber Times article, a disaster which killed more than 200,000 people.