In From the Cold hopes cat adoption heats up
Posted on August 28, 2019 by Taber Times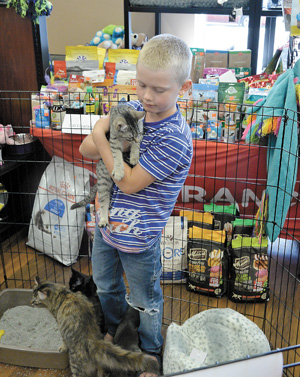 PURR, PURR, PURR: Ethan Motz gives Izzie a hug at the In From the Cold Rescue Society kitten adoption event at Pet Valu earlier this month. TIMES PHOTO BY GREG PRICE
By Greg Price
Taber Times
gprice@tabertimes.com
While not the overall result In From the Cold Rescue Society wanted with its adoption drive at Pet Valu, it was mission accomplished with raising awareness of exactly how big of a problem the stray cat population is around Taber.
"The event was a huge success with a lot of people coming out. I'm pretty sure the (Taber Times) article helped because we usually don't have that many people come out to our Pet Valu events. We didn't get a whole lot of cats adopted unfortunately, but we did get some applications put in for our puppies we have currently. We were also able to raise over $300," said Terri Wright, founder and president of In From the Cold Rescue Society.
In From the Cold Rescue Society was established back in November, but has been running a volunteer-based rescue for five years, and relocated in Taber three years ago.
The society intake/quarantine house has a maximum capacity of between 15-20 cats and the house is currently sitting at more than double that.
"We're at a pretty critical juncture actually. Unfortunately, there are just so many kittens and not enough homes for them all. Usually, any other year, adopting out kittens is not a hard task at all. At our event, we had 17 kittens there, all under four months old, and unfortunately, not a single one had an application put in for them," said Wright.
The society still receives phone calls and emails almost daily about stray cats, cats being left at properties, and unaltered pets having too many kittens and owners getting fed up.
"Even the last couple of weeks here, you are seeing through social media, so many people finding these little kittens and there's actually suspicions going around that there is someone dumping them around town as there are so many being found right now that have the same colour descriptions and ages," said Wright. "People are wondering what's going on. It's getting out of hand for sure."
Part of the problem Wright sees is perhaps people are unaware of spaying or neutering their pets, or if they are, they simply do not want to pay the fee and still let their cats roam free outside.
"I do know on top of us taking in these abandoned cats, we do try and help out some low-income families here and there if we can with spaying and neutering costs if we can," said Wright, adding the kittens that were up for adoption at Saturday's event were vaccinated, dewormed, microchipped and spayed or neutered. "We do advocate for spay and neuter clinics that are available for people in Lethbridge and Calgary. Every vet clinic has different prices and there are some vet clinics that are very, very low in price that are very affordable. It's a matter of getting people to take that step to bring in their cats to get it done."
Having the plethora of things done already to the kittens that are up for adoption is something new the In From the Cold Rescue Society had done this year.
"Kittens under six months of age, we usually wouldn't spay or neuter, because they are a bit smaller. But, there has been studies showing that you can spay and neuter your pets earlier on, as long as they are healthy and growing properly," said Wright. "The reason why we've been doing it earlier is because quite a few cats we've adopted out two years ago for example, even though they were adopted out with a spay/neuter agreement, they were supposed to show up for a vet appointment and they never showed up for it. We had it covered (financially) and now we are starting to see a couple of them show up pregnant. That was the last thing we wanted, was for these cats to go to people who weren't going to follow through with what they were supposed to. Now, we've started that these cats aren't allowed to leave until they are fixed."
If you would like to learn more about the In From the Cold Rescue Society, you can log onto their Facebook page, or e-mail infromthecoldrescue@gmail.com. The intake line for the society is 403-416-1904.
"People are welcome to call pretty much any time. We don't really have set hours, we will do what we can any time of the day. If it's 10 at night or something like that, especially if it means getting a cat into a home or a foster home, we are advocates. We are advocating for cats, we are advocating for those who can't advocate for themselves," said Wright.
There are future plans by the society to host possible educational sessions, either at the Taber Police Station meeting room or the Taber Public Library, about the benefits of spaying and neutering your pets, along with what clinics you can use.
"Also, things like keeping your pets indoor or at least on a harness or leash or something like that," said Wright.