Canadian Pacific Railway says rail crossing on its repair list for 2019
Posted on August 21, 2019 by Taber Times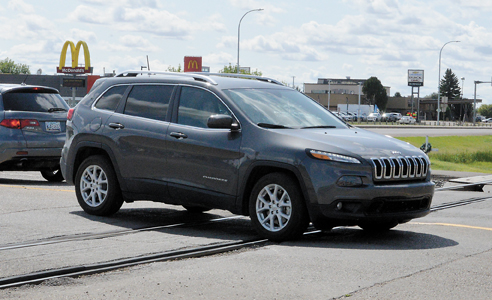 TIMES FILE PHOTO
By Trevor Busch
Taber Times
tbusch@tabertimes.com
A rough rail crossing near the intersection of Highway 3 and 50th Street which has been the focus of complaints from local drivers should finally be repaired in 2019 following a two-year delay by Canadian Pacific Railway.
Postponed since July 2017, last week a spokesperson for the CPR confirmed the project is expected to get underway before the end of the year.
"CP will replace the railway crossing at Highway 3 and 50th Street in Taber before the end of the construction season," said Salem Woodrow with CP media relations.
The rail crossing was the subject of a letter to the editor from Jack Collier published in last week's edition of the Taber Times.
"I cannot figure out why the CPR does not fix the railway crossing at 50th Street and Highway 3," wrote Collier. "The other three crossings here in Taber are very good. Does the CPR have shares in the car-repair business? Just wondering."
The issue was first raised with Taber town council in September 2017 when former Coun. Randy Sparks had questioned administration about a timeline for the project while commenting on the condition of the crossing.
"I've heard a lot of concerns about the train tracks out here by the lights and how rough they are to go over," said Sparks. "I thought that earlier in the year that was going to be rectified by CP Rail, but it has not. Maybe I misunderstood, but I thought something was going to be done there at the lights here when they were doing the crosswalk there for the walking trail."
At that meeting, engineering manager Ramin Lahiji had offered to look into the issue and get in touch with CP, but in October 2017 council learned CP had postponed the project due to budget constraints.
"CP Rail actually had it planned for the beginning of July," said public works director Gary Scherer. "They had it all lined up and ready to go, and they called the day before and cancelled it due to budget constraints. Since then, we've expressed the concern that it needs to be replaced, but this is CP and they do take their time. The last one we put in took four or five months."
At the time, Scherer had explained the town could not take the lead on the project due to repair and remediation work being under the purview of the railway.
"No — that is all their project. We will help them — we were all lined up to come and help them, we have to, we're obligated to do so (but) they're the ones who cancelled and we can't take their place," said Scherer. "It's their project."