StagEX — Corb Lund to bring home ranch and rodeo life Aug. 20
Posted on August 16, 2019 by Taber Times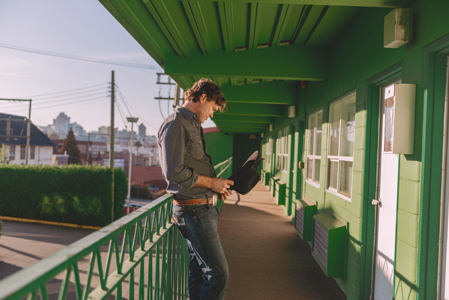 TIMES FILE PHOTO
By Stan Ashbee
Alta Newspaper Group
It's time to whoop it up once again in southern Alberta, as Exhibition Park proudly presents Whoop-Up Days 2019 Aug. 20-24 in Lethbridge. This year, don't miss the StagEX Music Festival featuring Corb Lund, Sam Roberts Band, Walk Off the Earth, Arkells and Lil Jon. The StagEX festival line-up serves to celebrate a historic moment in the 122-year history of the Lethbridge and District Exhibition.
Considered one of Canada's hottest country singers and songwriters, Corb Lund hits the StagEX stage Aug. 20. Lund continues to call southern Alberta home, has multiple CCMA, Juno and international award nominations and wins under his belt and has released nine studio albums.
Lund's latest project, "Cover Your Tracks" is an upcoming eight-song EP to be released Sept. 13 — which includes interpretations of songs by AC/DC, Nancy Sinatra and Billy Joel. "The EP is cover songs — like old favourite songs of mine and that comes out in September," Lund said. "It was just kind of for fun, actually."
According to Lund, some of the tracks on the upcoming EP are country songs and some of the covers are rock songs. "We sort of put the Corb Lund band filter on them," he explained.
Fellow southern Albertan and legendary singer and songwriter Ian Tyson is a featured guest performer on the upcoming EP. Lund and Tyson will also be performing together for a "symphonic evening" coming up this September in Edmonton.
"It's interesting playing that way. It's really fun. My natural habitat is playing honky tonk with my band," he said, adding it's neat to hear some of the arrangements symphonically.
Lund hails from the Rocky Mountains of Alberta with a family lineage of ranchers and rodeo folks. He embraces his Western heritage through his music with cowboy themes of past and present. This summer, Lund has also been in the studio recording material for a full-length album with The Hurtin' Albertans.
"We're recording this month for a brand new record of our own music, which will come out in the spring," he said, adding he's got a song about horses and a song about not enough horses too.
"I've kind of exhausted almost every aspect of Alberta culture for songwriting, but I wrote one about the Alberta rat patrol. It's like a rockabilly song. It's pretty cool," he said.
As for live shows, including the upcoming StagEX festival, Lund said with several albums the band doesn't play the same set every night. "Every night is different. We play a lot of the popular favourites. It's interesting, because I'm from this area. My family has been here 100 years on both sides and drummer Brady and bass player Kurt are from the Lethbridge area and Taber."
"A lot of my songs are about family being in this part of the world. We play them all over the place. We play them in Europe, Australia and all through the United States and in Eastern Canada," he said, adding it's great playing the songs in the area where they're actually about.
"Because people understand what I'm singing about."
When the band plays in places like New York City, Lund said it's cool and fans like the music and they like the flavour of the song, "But they don't know exactly what I'm talking about. The agricultural references and rodeo stuff," he joked.
Lund and his band are lucky to be able to perform at a variety of venues when out on the road including honky tonk bars, theatres, fairs and rodeos. "I like it all," he said. "I like the variety."
Lund, originally from The Smalls — one of the top indie rock bands from Edmonton — is extremely busy these days, as he continues his momentum writing, recording and performing. "That's what I signed up for when I was 16," he said. "I would have killed to be here. So, I'm happy."
"I really enjoy what I do. It keeps me slammed," he said.
Lund currently lives in Lethbridge and he said his mom still lives on the family farm in Taber. "I come from a rodeo family too. Both sides of my family. It's kind of neat to play a rodeo, especially around here," he said. "My mom won the barrel racing in Lethbridge a number of times," he added.
Don't miss the top-notch entertainment line-up at this year's Whoop-Up Days. StagEX headliner shows begin at 9:30 p.m. For more information about the shows and to purchase tickets visit online at exhibitionpark.ca.
Aug. 20 features Corb Lund, Aaron Goodvin and Alee. Aug. 21 features Sam Roberts Band, Nuela Charles and Mariel Buckley. Aug. 22 features Walk Off the Earth, Scenic Route to Alaska and the Julian Taylor Band. Aug. 23 features Arkells, Dear Rouge and The Dirty Nil. Aug. 24 features Lil Jon, Notorious YEG and Harman B.