Vegetable Garden changing focus in wake of storm devastation
Posted on August 14, 2019 by Taber Times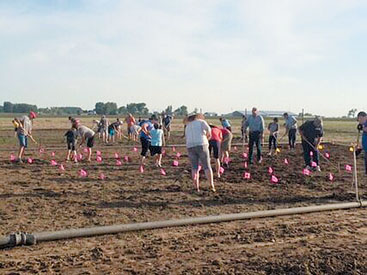 TIMES FILE PHOTO
By Greg Price
Taber Times
gprice@tabertimes.com
To say a new wrinkle had to be put into the Community/Vegetable Garden upcoming open house would be an understatement.
For the last four years, volunteers have been harvesting vegetables and fruit from the multi-acre plot of land just north of Barnwell on Huckleberry Road, giving pound after pound of bounty not only to the local food bank, but others in the southern Alberta region as well.
The garden was set to be showcased in an open house this Saturday, but last week's hail storm that devastated crops across the Barnwell/Taber region, affected The Community/Vegetable Garden as well.
For volunteers who have worked the fields over the years for the project, it is hard to put the devastation into words. Last Tuesday's hail storm which lasted mere minutes, but produced tornado-level winds, wiped out The Vegetable Garden in its entirety.
"It was utter shock. It came so quickly. We were out harvesting that night. We could see the storm coming, but it was one of those 'Oh, it might miss us.' But when we saw the lightning we said 'That's enough, let's back everyone up.'," said Andy Puskas, a long-time volunteer with the community garden project. "Within minutes — it was boom! Within a half hour later once the rain subsided, we went out and looked and I've never seen anything like it. The wind got a little funny and then there was a wall of hail. All we could do was run for cover in vehicles and it was probably 10 to 12 minutes of solid, solid hail. Half an hour ago, we were picking vegetables and then you couldn't find any anywhere. I've never been part of anything that has been totally wiped out in a storm."
Take a tally around the Taber/Barnwell area and it was not only the garden project that was devastated. Molnar and Johnson's farms were flattened among others in the southern Alberta region, losing almost everything.
"We have friends who live south on the Safeway road that lost everything. I'm sure there were Hutterite colonies that lost a lot of crops," said Puskas. "You look at it in the bigger picture, I'm sure there are farmers in their private moments and their private space, they've balled their eyes out. I had another friend of mine say I hope this is one of those once-in-40-years storms."
As devastating as it was for the team of garden volunteers to see early last week, Puskas added it is the Taber Food Bank whose thoughts linger to. The Community/Vegetable Garden project was able to harvest approximately 23,000 pounds of produce for regional food banks in 2018, while only able to get about 500 to 600 pounds out of the ground for 2019 before last week's storm.
"This year, the community was really getting behind it. The food bank executive board was out there, we had Saunders Insurance, we had the (medical) clinic send some people out, Johnson's Pharmacy sent some people out, and sent the corporate challenge out to First Choice Savings. We've had kids out from Kid Zone, and it was their second time this year," said Puskas. "Part of the reason for the open house was to turn this into a true community project that is called the Vegetable Garden, for the food bank. The big hit is going to be at the food bank."
The initial growing season had members of the Church of Jesus Christ of Latter-day Saints tending to the garden, but volunteers have since grown to other faiths, corporate members and simply community members who have helped nurture the project using their green thumb and harvesting skills.
"The chamber of commerce kicked off their corporate challenge, and it was really starting to roll," said Puskas.
Now organizers of the Community/Vegetable Garden will be rolling with the punches in its focus of its open house at the garden on Saturday.
"The hail totally destroyed our harvest that we give to the food bank. Now our emphasis (with the open house), will be to ask for cash donations to buy produce. It can be a cash donation or a non-perishable food item," said David Torrie, farm administrator for the Community/Vegetable Garden.
The open house will feature hot dogs for people to enjoy, but now corn will be substituted with watermelon because of last Tuesday's hail storm, where people will be invited to see the damage while organizers make their plea for people to help the food bank.
"Community spirit is still there. I know there's been a bunch of people going around helping with trees, broken windows and houses and stuff from Barnwell. There's the financial troubles with it that those who aren't in the middle of it don't know about, but there's that feeling that things like this happen in southern Alberta, and how do we make the best of it," said Torrie. "There is some curiosity of what the storm did, there's quite a bit of education showing what hail can do to food supply."
The Community/Vegetable Garden Project open house goes this Saturday from noon-2 p.m. at the site of the garden, just north of Barnwell on Huckleberry Road.
"Season Four was a little abbreviated, but Season Five at the Vegetable Garden, we will start again in May and do it over again," said Puskas.