Cornfest events sheltered for corn supply
Posted on August 14, 2019 by Taber Times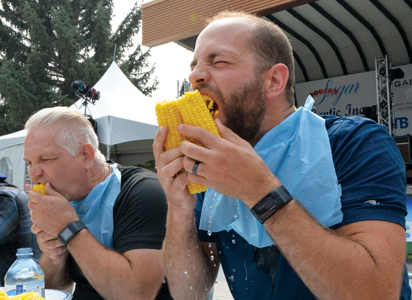 TIMES FILE PHOTO
By Greg Price
Taber Times
gprice@tabertimes.com
There is no need for panic — for now, on whether there will be ample supplies of Taber corn to enjoy for Taber's annual end-of-summer celebration, Cornfest.
"There has been a lot of talk out there on social media about what's going on, but there's a few people I'm still waiting on hearing from on the availability of actual corn, the corn people would be eating at the various stands," said Jared Bell, 2019 Cornfest chairman, in a late Monday afternoon interview with The Times. "We do have options set up for the events that we hold."
A hail storm early last week that lasted mere minutes, but had tornado-level winds, decimated farm land around the Taber/Barnwell regions that put a huge dent into the corn supply the area is best known for across North America.
Bell assured the public that Chamber of Commerce sponsored events like the ATB Corn Stuffing Contest, Rogers Sugar/Lantic Corn Tasting Competition and South Country Co-op Corn Eating Competition on Cornfest Saturday (Aug. 24) at Confederation Park will go on as planned.
"There will be some availability of corn for those types of things. We have some outs. We are not worried about the event themselves, it will be more so of the availability of corn for sale for your typical outlets for vendors," said Bell. "There is a lot of corn that passes through Taber on Cornfest weekend. I'm waiting to hear back on what that is going to look like, I get that they have a lot on their minds besides Cornfest and have a lot of things on the go. I feel for them."
Bell is hoping to hear soon from the farmers affected on how much home-grown availability there will be for consumers at Cornfest.
An oddity that has emerged from last Tuesday's hail devastation is that it opens up the real possibility that an underdog home grower could be crowned Corn King for 2019 for the Rogers Sugar/Lantic Corn Tasting Competition, with the bounty of their garden that was unaffected by last Tuesday's storm, if they choose to enter their variety.
"Anybody can enter their corn, so hopefully we get some entries that way — absolutely," said Bell.