Cat rescue society at critical juncture for intake of animals
Posted on August 14, 2019 by Taber Times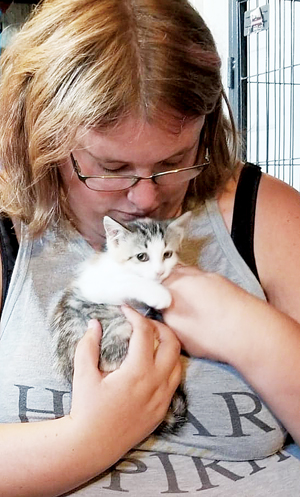 MEOW MIX: In From The Cold Rescue Society members are constantly coming to the support of animals like Tatiana, who was rescued last week from inside a car engine. TIMES PHOTO SUBMITTED BY TERRI WRIGHT
By Greg Price
Taber Times
gprice@tabertimes.com
They say cats have nine lives, but those lives are certainly in jeopardy around the Taber area as a local society has closed its intake due to the overwhelming amount of cats coming in.
The In From the Cold Rescue Society was established back in November, but has been running a volunteer-based rescue for five years, and relocated in Taber three years ago.
"With our organization, it's mostly out of foster homes we try and run. We do have a small intake house at one of the board of director's organization's homes. That's classified as a quarantine zone, it's where cats go when they are picked up," said Terri Wright, founder and president of In From the Cold Rescue Society. "They are in there for about 30 or 40 days before they head off to foster homes or are adopted."
The intake/quarantine house has a maximum capacity of between 15-20 cats and the house is currently sitting at a whopping 46 as of late last week.
"That included kittens and moms as well," said Wright.
The society still receives phone calls and emails daily about stray cats, cats being left at properties, and unaltered pets having too many kittens and owners getting fed up. In 2018, In From the Cold Rescue Society took in 387 cats from the Taber area. In 2019, the society is already at 270 cats.
"It's definitely getting worse and one of the hardest years we've had and I've heard a lot of other rescues saying that too," said Wright. "This time of year is when all the moms are having their kittens. We don't take surrender cats and we don't take owner relinquished cats like that. We mostly focus on cats that have been thrown away or semi-feral cats that have been tossed aside and forced to live outdoors. We try and take the cats off the street rather than the cats people do not want anymore in their homes."
With the extremely feral cats, the society helps run the trap and release program where there is funding to get the animals fixed.
"We do trap them, we fix them and then we return them to where they were trapped at," said Wright. "The key I can say to any cat owner is spaying and neutering to get cat populations under control."
In From the Cold Rescue Society is continuing to look for a more suitable building to run its rescue efforts out of. The society is comprised of five board of directors, two extra members and three volunteers. The society has been able to access a couple of long-term foster homes for a couple of years now.
"We are not looking at anything large and fancy, we are just looking at a small community home which would work perfect. A place where we can have our cats separated, having the healthy cats that are ready for adoption or foster homes in a separate area, away from the cats that are being quarantined," said Wright. "We have a lot of cats that are ready for foster homes here and if they can be moved out, it opens up space for more cats to be moved in. Unfortunately, we are lacking foster homes, so we have a lot of cats here that don't need to be here, who could be somewhere else right now. The big thing is having some more room to work with."
Along with its regular fundraising, In From the Cold Society will be hosting an animal adoption event this Saturday. The event will feature a barbecue along with a meet and greet and kids games at Taber's Pet Value at 5005 47th Avenue from 12-4 p.m.
"We always educate people at all our events with brochures with the benefits of spaying and neutering your pets, benefits of keeping your pets indoors, along with volunteer and board of directors applications, with everything on site with us," said Wright. "With fundraising, we do have an account open at the bottle depot where we do accept bottles as donations. All that money goes towards our vet bills we need to pay down. Our future dream of course is to secure a new building, even if it is a house we can run our organization out of. It can also open up the doors to get more community members involved. Unless they want to be a foster home, they can't really do the hands-on work they want to do. Getting into a new building would help with that."
The Town of Taber currently does not have a cat bylaw in place, but does have a trap-neuter-release program. According to a March 2019 Taber Times article, there was $15,000 of the police budget that was dedicated to the program that was run through volunteers.