Ghostbusters shooting in Fort Macleod this week
Posted on August 7, 2019 by Taber Times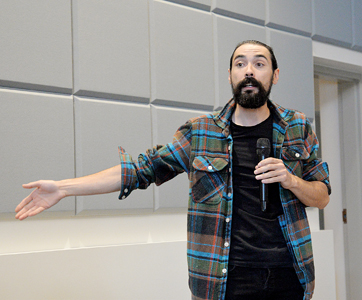 NICE NEIGHBOURS: Mathew Jacinto-Uhrik, assistant location manager, offers encouragement to the residents of Fort Macleod at a recent town hall meeting. TIMES PHOTO BY GREG PRICE
By Greg Price
Taber Times
gprice@tabertimes.com
If you ain't afraid of no ghost, small-town southern Alberta has something just for you.
Local residents from Fort Macleod and media descended on a town hall meeting last Thursday night to find out details about the shooting schedule in the area for the latest Ghostbusters movie (Ghostbusters 2020), which is tentatively set for six days of shooting over 11 days in the town of approximately 3,000 people.
"We are really excited to be bringing this $170 million dollar-plus production into the town of Fort Macleod. It goes a long way into helping our economy as well as putting the town of Fort Macleod on the map," said Sue Keenan, CAO for Fort Macleod.
Calgary will be getting the majority of the shoot, with Fort Macleod's slice being a single action scene which film location manager Laszlo Uhrik noted will be three to four minutes of the movie, tops.
"It will take us four or five days to film this scene. Essentially, if you imagine a car chase. A car comes up to an intersection, stops, screeches around the corner and then zooms down main street," said Uhrik. "It's broken down into little tiny segments. A 15 second segment probably takes us about a day to film."
Special and visual effects will be involved in the scene shot in Fort Macleod.
"We want to make it look really exciting. There's a couple of kids in the car chasing an imaginary character that we never see, but they don't quite have a handle on the car because they are still young kids," said Uhrik. "They have the pedal to the metal and the car is banging off of light posts and jumping the curb."
Filming will be in two locations in Fort Macleod, shutting down 2nd Avenue between the highways and the historic 24th Street. Filming begins Aug. 8, with the final day of shooting scheduled for Aug. 18. Residents who attended the town-hall meeting were given a filming-activity calendar of the exact days, locations and time frames shooting would be going on that they have secured the necessary permits and waiver for filming up to 3 a.m.
"It was the variety of locations. Anything from high alpine to badlands. The only thing we don't have here is an ocean, and that's only 10 hours away by car," said Uhrik with a chuckle, on what made For Macleod so appealing as a chosen site for the movie.
"Directors and production designers like Fort Macleod for its look, and specifically the main street. That block of buildings, that has been maintained…[it] gives a look that is timeless, in a sense."
"It's really a beautiful block of buildings, and the width of the street works for cameras, and there's not too much modern stuff there — you know — so these are the things that a director would like."
Said to be a continuation of the first two movies of the Ghostbusters franchise, original actors Dan Aykroyd (Dr. Raymond Stantz), Sigourney Weaver (Dana Barrett) and Annie Potts (Janine Melnitz) have been confirmed, with Bill Murray (Peter Venkman) rumoured to be in the cast. Newcomers to the franchise include Ant-Man's Paul Rudd, Stranger Things' Finn Wolfhard and Gifted's Mckenna Grace. The third film is directed by Jason Reitman, son of original Ghostbusters director Ivan Reitman.
Unfortunately, those looking to do some star gazing this month in the small town will be disappointed.
"This particular scene that we are filming that I have described, no actors, it's all stunt performers, professional drivers, photo doubles," said Uhrik, adding approximately 100 to 120 people from the second unit will be descending on the town to film.
Contracts agreed upon with the businesses that will be affected, plus the buzz the filming will created drawing people to the town apart from the crew look to be a plus to the economic bottom line.
"There's always concerns when you affect a business and their hours of operation and their access. But through the business owners, we are also hearing you are negotiating one-on-one and that is up to each business to negotiate the best deal that they can," said Andrew Beusekom, president of the Fort Macleod and District Chamber of Commerce.
"Each business is affected differently. For example, there are two businesses where we want to use the building, want to be inside the building with cameras inside the building. That's hugely affecting their business. And there are others where basically what we want to do is put up a little sign," added Uhrik, noting Fort Macleod will represent a nondescript town in Oklahoma.
While film crews have a concrete plan in place for shooting where they think they have addressed all potential concerns, Mathew Jacinto-Uhrik, assistant location manager, encouraged local residents to communicate with them if other concerns pop up during filming.
"Please, don't feel like once we have started that you can't still come to talk to us. From us, we just want to begin a dialogue with you. I've been working in film for about 15 years on and off and the way I always approach it is we are always guests in your community, your homes and in your town" said Jacinto-Uhrik. "If it wasn't for your kindness, we would be out of a job. Our doors are always open to hear any of your concerns. We are more than willing to address them and make sure our experience here is a positive one for yourself and for us."