Carbon tax fight continues
Posted on August 7, 2019 by Taber Times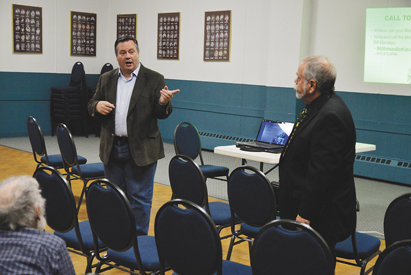 EARLY DAYS: Premier Jason Kenney — at the time seeking the leadership of the PCs — makes a stump speech at a open house with MP Shields in Taber in 2017. TIMES FILE PHOTO
By Trevor Busch
Taber Times
tbusch@tabertimes.com
Stiff opposition to the federal government's carbon tax has prompted several provinces to band together in a shared legal challenge, with Bow River MP Martin Shields confirming his own federal Conservatives will continue to beat the drum of opposition to the controversial initiative.
"Obviously from the Conservative point of view, we don't believe in the carbon tax. We believe in innovation and lots of things that the private sector does," said Shields. "So we don't believe that a tax on the middle class is something that's going to solve environmental problems. The federal Conservatives don't believe in a carbon tax as an environmental plan. We have an environmental plan that doesn't include a carbon tax."
Last week in Saskatoon, attorneys general from Saskatchewan, Ontario, Alberta and New Brunswick met to forge a plan to unify their legal opposition to the federal carbon tax, intending to be heard by the Supreme Court of Canada as a simultaneous challenge. Saskatchewan has also requested the Supreme Court delay its hearing of that province's individual challenge until 2020 in order to facilitate coordination with the other provinces. Saskatchewan's challenge was scheduled to be heard by the Supreme Court on Dec. 5.
"We match, in a sense, the provincial premiers who are saying they don't believe in a carbon tax," continued Shields. "There's many different pieces that the provinces are pursuing with their industries. In a sense, Alberta has had a carbon tax to deal with heavy emitters, they've had that since Ed Stelmach. And then Saskatchewan has a program, they believe they have an environmental plan that would work to meet the targets. So there's a number of provinces — New Brunswick has a plan that they believe meets the targets without this added carbon tax. So our belief is those provinces should be able to develop those."
New Brunswick has only registered as an intervener in the Supreme Court appeal after dropping their own legal challenge in July, while Quebec has announced plans to seek the same status. Manitoba launched their legal challenge to the federal carbon backstop in April.
Alberta recently filed its own legal challenge on the constitutionality of the federal carbon tax with the Alberta Court of Appeal, however similar challenges launched by Saskatchewan and Ontario in their respective appellate courts have already gone down to defeat in split decisions. Both courts ruled the federal Greenhouse Gas Pollution Pricing Act was constitutional, suggesting greenhouse gas emissions are a matter of national concern and therefore fall under federal jurisdiction.
Shields was guarded in his assessment of the potential merit of the provincial Supreme Court challenges in achieving a desired outcome.
"There's always hope that they will be successful. But I can't predict what the court will do."
The Trudeau Liberals have already imposed the federal carbon tax on the provinces of Ontario, Saskatchewan, Manitoba and New Brunswick, all of which refused to implement their own carbon pricing programs. With the new UCP government of Jason Kenney axing Alberta's own carbon pricing regime earlier in 2019, Ottawa has vowed to impose the federal tax on the province starting in January 2020.
That announcement comes with a caveat, however, as an upcoming federal election in October will likely change that narrative if the Liberals are unable to hang on to a majority in the House of Commons. The Supreme Court won't hear the appeal until after the election.
As for the federal Conservatives, leader Andrew Scheer has already promised to cancel the carbon backstop if elected prime minister. Shields views his own party's approach to environmental policy as a much more effective fit for Canada and the provinces.
"Our plan works with the industry. We believe there's many opportunities for innovation that would be able to reach a reduction in greenhouse gases significantly in partnership with, but not taxing the middle class. We don't believe that's an environmental plan."