Research laboratory named after organ donation advocate
Posted on July 31, 2019 by Taber Times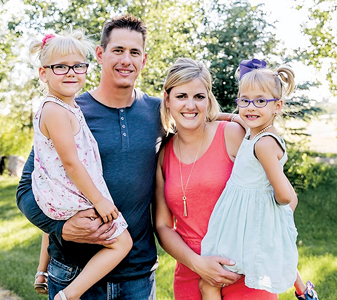 LIFE REMEMBERED: Karen Hamilton, who passed away from West Nile Virus last year, had her loving husband Brent and daughters Emma and Lily get to see a laboratory named after Karen. TIMES PHOTO SUBMITTED
By Kirsten Bauer
Submitted by the University of Alberta
Faculty of Medicine and Dentistry
In 2013, Karen Hamilton, mother of two from Taber, was placed on a waitlist for a double-lung transplant. Needing constant oxygen to help her breathe and care for her infant twins, Emma and Lily, Karen's lungs were becoming too weak to support her.
She had endured a lifetime of health complications from cystic fibrosis, a genetic disease that affects the digestive system and lungs, but her desire to be present for her family and create a good life for her children kept Karen moving forward.
Doctors told her to expect up to a two-year wait for a donor-tissue match, and that many do not survive the wait. Three months later, Karen was offered an innovative alternative — a set of 'reconditioned' donor lungs using a revolutionary organ support and repair device called the Ex Vivo Lung Perfusion, an invention developed by University of Alberta surgeons and researchers Darren Freed and Jayan Nagendran.
Karen and her husband Brent courageously agreed.
"Karen was getting sicker and it was apparent that the wait would be too long for her," recalled Brent Hamilton. "It was taking a very big toll on her health and she needed those lungs as soon as possible, so we decided it was our best chance at a better life for her."
A world 'first' in transplantation science
Blood clots in the donated lungs would have normally rendered them unusable for transplantation, but the clots were treated and repaired outside the body using the Ex Vivo Organ Perfusion machine — a world 'first' in transplantation science.
Karen Hamilton was the first-ever patient to receive a set of reconditioned lungs that otherwise would have been unusable for transplantation if not for the Ex Vivo Perfusion technology. The repaired set of lungs gave Karen a life she never had before, and she embraced it with zeal.
"It was amazing to see the colour come back to her body," said Brent.
Brent noted his wife was able to do the things she was never able to do before — like carrying her babies, going out past 10 p.m. with friends, and running and biking with the girls as they got older.
"Up until then she needed a strict schedule of therapies in order to maintain her health, and was never able to go too far from home."
From patient to advocate
Following her groundbreaking transplant, Karen embraced every opportunity to share her story widely. She became a tireless volunteer, planning organ donation awareness events in Taber. She contributed to provincial health advisory boards as a patient advocate.
Karen was a passionate key spokesperson at 630 CHED Heart Pledge Day—an annual University Hospital Foundation fundraising drive to support innovation at the Mazankowski Heart Institute in Edmonton. Brent added 'the Maz' was a meaningful place for Karen as that is where she was cared for throughout her transplant. Her dedication inspired countless others to support the advancement of medical research and help to save more lives like her own.
Inspired by Karen's success, a partnership with Astellas Pharma Canada, the Government of Alberta and the University Hospital Foundation, established the Alberta Transplant Innovation Fund (ATIF) in 2016, and helped University of Alberta surgeons and researchers Darren Freed and Jayan Nagendran develop and build a new and improved Ex Vivo Lung Perfusion device—now used 11 times to date, all with successful patient outcomes using lungs that would otherwise not have been usable.
Although Karen's transplant was an absolute success, all transplant patients are susceptible to higher risks of infection and immunosuppression. In Karen's case this led to overwhelming illness from a mosquito bite. In 2018, Karen passed away from West Nile Virus.
"We were at a cousin's wedding when she started to have some strange pains, so we thought these were signs of rejection from the transplant. But the symptoms didn't match," said Brent. "We took her to the hospital, and within 24 hours she went from being able to talk to barely being able to breathe. By the end of the second day, she was in a coma. It happened very fast."
Karen Jane Hamilton Ex Vivo Organ Perfusion Lab
This summer, three generations of Karen and Brent's close-knit family came together over refreshments in the Li Ka Shing Centre for Health Research Innovation at the University of Alberta in Edmonton, hosted by the University Hospital Foundation and the University of Alberta's Faculty of Medicine and Dentistry to honour Karen's lasting contribution to medical science.
Researchers led them through the newly named Karen Jane Hamilton Ex Vivo Organ Perfusion Research Laboratory, for a first-hand look at the made-in-Alberta innovation that gave them more time with their departed loved-one.
The naming of the Karen Jane Hamilton Ex Vivo Organ Perfusion Lab is intended as an enduring tribute for all the surviving Hamilton family.
"It's about Karen's legacy," Brent said. "It gives us hope that some day people won't need to go through what Karen went through."
Karen set the standard for what it is to make the most of your opportunities in life," said Jayan Nagendran, Karen's transplant physician. "She could have easily kept her focus on her and her family alone, but she now leaves a legacy that will continue to save lives for decades to come."
Hamilton's courageous mission continues
Karen's courage to undertake the experimental transplant procedure will continue to propel further breakthroughs in her namesake laboratory for years to come. With ATIF support, international multi-centre clinical trials are ongoing with the hope that eventually the Ex Vivo technology will be adopted worldwide, and help save thousands of lives yearly.
"It was quite moving to be there in the lab. We had seen the lab prior to her transplant, but to be there in what is now her lab, and to learn from the researchers about the machine that helped to extend Karen's life was pretty special," said Brent. "It was the first time I got to hear from all the different people she affected. I was aware of Karen's advocacy work, but I'm just now beginning to fully realize the true impact of what she did."
He encourages others who may be considering taking part in clinical research to have trust in their physicians.
"Dr. Nagendran and Dr. Freed are very educated and dedicated people who have shown that with dedication and hard work, you can really change the world. Karen was the first person to receive new lungs using the Ex Vivo machine, but hopefully because of her, many others will get the second chance that she did."