Town creates new arts position
Posted on July 24, 2019 by Taber Times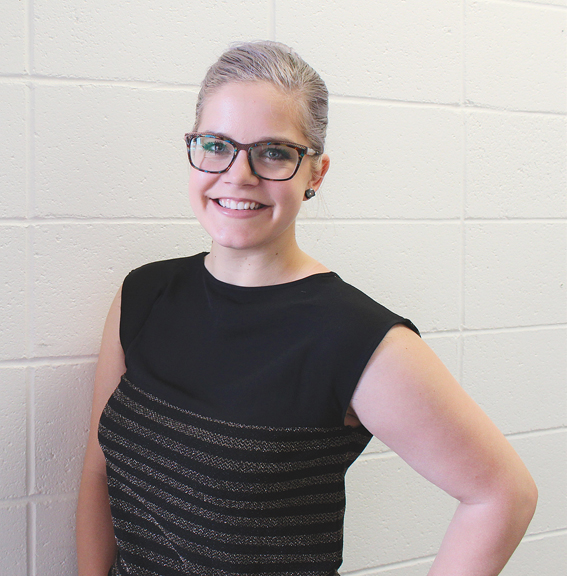 ARTSY: Emily Hembrough, a previous town employee, has transitioned into the new ACE management position with the Town of Taber. TIMES PHOTO SUBMITTED
By Trevor Busch
Taber Times
tbusch@tabertimes.com
As part of an initiative through its Strategic Plan to better facilitate events and enhance the municipality's cultural profile, the Town of Taber has created a new Arts, Culture and Events Coordinator management position.
Following in camera discussion on June 10, council directed administration to create an Arts, Culture and Events Coordinator management position to cultivate a sense of community and encourage and promote local cultural diversity.
"Part of our Strategic Plan touched on that. That's part of it, and a bit of a spin off through our PACC (Performing Arts Centre Committee) that was originally in place, looking for the one focus that they had, and not able to follow through in the end for what they were looking for," said Mayor Andrew Prokop.
"There's definitely a need for some more arts and cultural events, and so to have somebody earmarked to control that. And consistency is a big one, so you're not walking all over the map with everything involved."
The position is within the town's Recreation Department, and has already been filled by employee Emily Hembrough.
"I am honoured to be given the opportunity to work as the ACE Coordinator for the Town of Taber," said Hembrough in a press release.
"I'm very passionate about this community and its future, and I am excited to work with the public on coming up with new ideas for events, culture, and arts for everyone to enjoy."
According to the town, the new position is cost-neutral to taxpayers thanks to the support of the town's CUPE Local 2038.
The town undertook a process to focus recreation responsibilities on various members of staff to increase service levels, and the realignment of resources within the department also allows for additional training and growth opportunities for current CUPE staff members.
"With the restructuring involved, there was no extra cost attached to it, so it was a no cost move," said Prokop. "And it fit well within the Strategic Plan, where the lacking areas were. So this is new, but it's a gal that was with the town previously and she's got experience, she'll do very well in that role. She's very happy to be in that new role."
Recreation director Dawn Phillips congratulated Hembrough on joining the department's team.
"We are delighted to welcome Emily as part of our team," said Phillips in a press release.
"She will be an excellent asset to our department and I look forward to seeing how she integrates her ideas into the community. Thanks to CUPE's cooperation and support of this new position, we are excited to be able to begin offering even more programming and events for the citizens of Taber."
The Recreation Department's restructuring will "allow for more community-driven initiatives and the opportunity for staff to provide even better servicing and programs to the Taber community."
"There's many partners in the area that are looking to put on events, and she would co-ordinate with them, be in touch with them, and make these things happen," said Prokop.
"We didn't have someone typically involved in that on a full-time basis. We found that was lacking, and there was a need to do that. It was a lateral move that didn't end up costing anything extra that wasn't budgeted — it fit very well."
In order to take on the role, Hembrough is no longer a member of the CUPE Local 2038.
"The position was created to be management level, regardless of who ended up in the position," said communications co-ordinator Meghan Brennan.
"Emily happened to be an existing employee — who was in CUPE — who became the successful candidate, so as of her acceptance of the job, she is now on the management team."
Negotiations for the creation of the position with CUPE were successful, added Prokop.
"It had to do with union approval, and because they weren't replacing the position involved with that and could make this happen, they were good with that. It was just a restructuring process that made perfect sense to us."
Prokop confirmed the impetus for the new position had originated with administration prior to council's decision.
"It was administration's recommendation to follow through with this. They saw how this could fit, and so it was really administration's research and recommendation to do this. They presented it before council, and it went over without a hitch. That's nice to see, a smooth transition such as this, instead of something that could be potentially controversial."
According to the minutes of the June 10 meeting, the vote to create the new management position was not unanimous.