Progress on off-leash dog park stalled over fencing scope
Posted on July 24, 2019 by Taber Times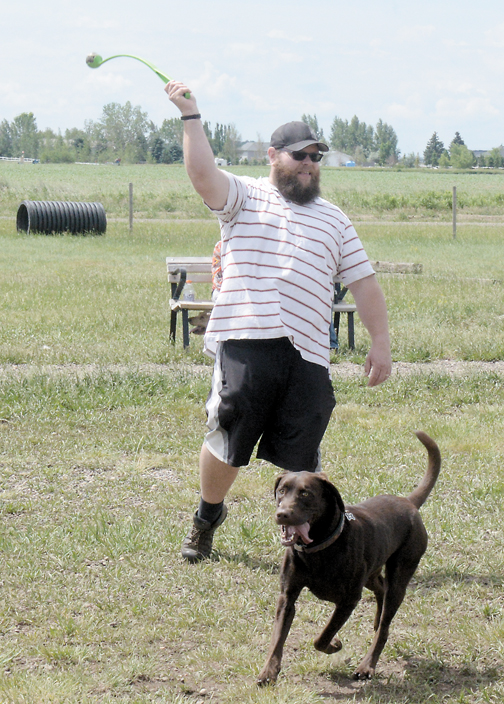 TIMES FILE PHOTO
By Cole Parkinson
Taber Times
cparkinson@tabertimes.com
After fundraising efforts proved fruitful for the upgrades at the Taber off-leash dog park, a change of scope around the project has put it behind schedule.
During Taber town council's regular meeting on July 15, an update around the project was brought forward to councillors.
"June was a busy month, we did six fundraisers throughout the month. I was hoping to raise $4,000 and we ended up rising just shy of $6,000. My husband and I chipped in the last little bit and made it an even $6,000," said Danelle Ulrick.
With more funds in the kitty than expected, Ulrick shifted her focus on what the project would entail.
While the original idea was to spread the money over several different items, upgrading the fence has jumped to the top of the list.
"Initially, I wanted to buy part of a fence, a shelter and some benches. I honestly think now, the better way to spend the funds is to replace all four sides of that south section of the dog park. I say that because the fence, if we just put in one, because it is three-sided right now. If we put in the fourth one with a chain-link fence that is five feet when everything else is four feet, everything else is page wire and people complain that their small Chihuahuas can get through it. To me, it is kind of a Band-Aid fix so if we have the money now to go and take out those three existing sides and put in four great sides, that narrows down that area," she explained to council. "With fencing being the most expensive part of this project, to me, it makes sense to me to spend that $6,000 towards the fence."
Originally, only 170 feet of fence would be on the list but now around 600 feet of five feet high chain link fence would be needed.
Ulrick had already done some digging on where to purchase the fencing and she highlighted DH Fencing in Coaldale, who was also working on the baseball diamond fencing at Ken McDonald Memorial Park, as the first pick.
"I have gone to a couple places to get fencing quotes. I picked the one that is the most reasonable and seems to be the most helpful. They've given us a discount for being an organization that we are," she continued. "With the fencing supply only, we are looking at, for all four sides, a total of $5,396 plus GST. That takes us up to $5,666. I priced out cement and have gone to Riverbend and priced out bagged cement to see what the options were. Most people were saying to go with bagged cement because it is cheaper. So with the cement on top of it, it is another $429.03. Delivery, DH Fencing sad they would charge no more than $250 but if they had to come out for work at the ballpark, they could just throw it on the truck and wouldn't charge us for that."
As far as putting up the fence, Ulrick stated the Kinsmen Club would donate labour and liability insurance to cover their members and any other volunteers helping put up the fence.
"I've gone to Prime Rentals, which is now Cooper (Equipment), they will donate the use of the skid steer to take off the chain-link fence," added Ulrick.
With the labour and fencing checked off, Ulrick only needed temporary fencing help from the town to inclose the area off during construction.
"There are a few concerns I have with this project. A: is a temporary fence because if we take the three sides down to rebuild it, it will not go right back up. The fence isn't going to drop and a new one goes up the same day. We will need something to block that area off so whether it is a snow fence or something to keep the dogs in. Also wondering about permits that would need to do this job and also storage of the materials," she said.
Councillor Joe Strojwas inquired to administration on whether or not the town could put up a snow fence during the construction.
With it being the first time council and administration had heard of a change in direction for the dog park, there were some issues raised.
Namely, some on council expressed apprehension due to the fact the updated project had not been brought before the recreation manager or recreation board.
"I would like to clarify that my focus has changed but my focus has always been getting the fence. It just changed from the original 170 feet to all 600 feet," explained Ulrick.
"I've stopped in three times in the last week to talk to Dawn (Phillips, director of recreation) about it and apparently she is on holidays until the 18th (of July). It's not that I haven't tried."
"I'm still concerned with the non-involvement with our recreation director," stated Mayor Andrew Prokop.
Administration also had a few concerns about the updated plan.
"With the commitment of our public works crews, he (Gary Scherer, director of public works) has a very aggressive work program for the rest of the summer. It's up to council of course, whether he sticks to that program and what his crews have considered to get accomplished this summer," said CAO Cory Armfelt. "To move out to the dog park, it certainly wasn't anticipated."
With this statement, Ulrick reiterated her point that she wasn't asking the town to put up the fence at the dog park.
"Are you suggesting that about the barrier fence or to replace the fence? I'm not asking the town to replace the fence, I have volunteers for that. The only thing was Mr. Strojwas suggested maybe the town could potentially put up a fence while we do the work so the dogs can't get out," she replied.
"Perhaps the town could just make the fence available and the volunteers could put it up to secure the dogs in the meantime. Not knowing what Mr. Scherer's commitments are but I do believe we have a snow fence," added Strojwas.
Administration doubled down on their concerns moving forward with the project.
"Your administration is not aware of this new ask. This new ask is new this evening and Dawn did leave for holidays on Thursday (July 11) so there would not have been the opportunity on Friday for a meeting prior to this meeting. We are hearing this first hand this evening so I am not inclined to make commitments for the public works crew with not really understanding what the scope of the ask is," said Armfelt.
Others on council were also hesitant to move forward until the recreation department was updated on the update work.
"I agree. When this proposal came to us we were expecting something different and now we are getting a request for a fence. I can respect and maybe even agree with you but long story short, we have a rec director for a reason. I think that for us to enter into an agreement today, that is premature until our rec director is back and had a chance to meet with you. I think we need to follow that protocol," said Coun. Louie Tams. "It's not a this or that. We have a piece of property and we have administration and a town staff that has to answer to the residents of the town of Taber through council as to what we're doing. It is not whether the fence is donated or put in by volunteers, and it's not that we are opposed to it, we just need to make sure that as council we are proving to our administration that we are doing the right thing."
With council requesting more back and forth between the organizers and the recreation team, Ulrick wasn't entirely sure why there needed to be an extra roadblock when many of the things had already been discussed.
"We have had this discussion on several occasions. Whether it has been me attending Coffee With Council or coming here to council, my ultimate goal was to replace the fencing on that south section. That was prior to knowing exactly how much we could or would raise in June," she said. "I understand the wheels of the government move slowly but if there are things you are saying we haven't discussed but we actually have then I think those things need to be bypassed and let's move on. If I talk to Dawn what is she going to say? 'Sure, yeah it's a great idea let's put a fence up'. I don't see the point in waiting until she is back from holidays. I've got the volunteers, I've got the money and I'll get the supplies." 
"It's all about all the users, it has to be an improvement and enhancement for all the users. Maybe some aren't in favour of your suggestions and then we have some problems right? As long as we have the majority of support saying all the changes are agreed upon, then there is no problem. It doesn't happen overnight," replied Prokop.
A motion was made to table discussions until council's August 19 meeting and was carried unanimously.