Taber Police Service looking at efficiency audit
Posted on July 17, 2019 by Taber Times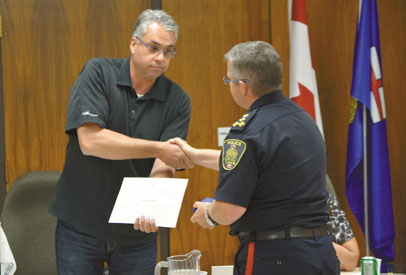 TIMES FILE PHOTO
By Greg Price
Taber Times
gprice@tabertimes.com
As revealed after a closed June council meeting session and later the June Taber Municipal Police Commission meeting, council has approved the funding of two fifth-class constables.
Advertising has begun in recruitment of the two officers, which are expected to be hired by January 2020, in which the two officers are expected to add to the policing budget $300,000, factoring in wages, training and benefits.
"As of today, we have had 16 people asking for applications. That's a good news story because in the past we haven't had that many to be honest with you," said Graham Abela, chief of the Taber Police Service at the June 19 Taber Municipal Police. "That gives credit to the organization and how others are finding it a desirable place to work in keeping with Town of Taber council's strategic plan to hire the best. It bodes well."
Following closed session discussion on June 10, council approved a motion to agree to increase the operational strength of the Taber Police Service by two officers, and directed administration to allocate the necessary funds to the 2019 Taber Municipal Police Commission (TMPC) budget. According to the minutes of the meeting, the vote was not unanimous.
After the in camera portion of the TMPC meeting on April 17, the commission had directed Abela and Ken Holst, chairman of the police commission, to present an operational strength business case to town council in closed session.
Holst noted at the June police commission meeting, that a topic that came up when the business case was presented to council, Coun. Garth Bekkering inquired if there had been internal audits on the efficiencies of the police service and its structure.
"One of the parts of the presentation was a work chart and we showed that. Although, it got us thinking a bit in regards to the fact that we really haven't done anything specific like that," said Holst. "I think it might not be a bad idea that over the summer, and maybe we task the chief with it, as far as looking at that structure. Now that we have these two new officers, our goal is to get as many boots on the ground as possible in regards to what is happening in our town. If there is a way to be able to properly accomplish that to the fullest way that we can."
Chief Abela explained to the police commission the Taber Police Service's organizational chart currently encompasses the chief at the top, with two sergeants and two executive officers and a public safety and communications manager right below.
"In 2016, I presented a succession-planning document to the commission which outlines the anticipated roll-out plan in the succession that was going to occur within the organization over the next probably three years. As you know, that involved the retirement of senior Constable Kutanzi and it involved the possible retirement of Sergeant Kehler. Both are eligible for retirement now," said Abela. "The plan was at that time to develop within the organization the skills, competency and abilities to have a promotion from within to take on what would become the vacant role of Sergeant. Kehler. As a result of that, we developed the executive officer program."
The executive officer program was a means to allow a constable who self identified as someone who would be willing to do a promotion or go into a promotion competition.
"It'd be able to partake more into the business of policing, more of the executive work that goes into policing that is more incumbent with the role of a sergeant or inspector, as opposed to a patrol constable. Two officers were self identified, one being Senior Constable Champagne and the other one being Senior Constable Gyepesi. For 18 months, Senior Constable Champagne was placed into the role and did a great job. And for the last (15) months Senior Constable Gyepesi has been in the role and done a great job," said Abela.
"But that term is coming to an end. In four to six months or so, Senior Constable Gyepesi was transition out of the executive officer position and I'll be left without an executive officer. Organizationally, that will have some impact. It is probably time to be honest with you to review our organizational chart and to make some serious decisions operationally as well as policy decisions with the commission around what the organizational chart should look like. I welcome that opportunity to examine that."
With Sgt. Kehler deciding against retiring for now, police commission member Wanda Campbell inquired if the terms for the executive officer positions could be extended.
"The problem I'm having which Mr. Holst identified is, I don't have a carrot for them to stay in that role. I can't really continue to hold it as a program or a temporary position. I'd have to create an executive officer position that is not a program and then I'd have to fill it," said Abela. "I'd have to hold a competition to fill it and who would want to come and do that job for the same money that they get for doing patrol, or actually losing money they would get on patrol if they don't have a carrot at the end of the day. We are talking about Maslow's Hierarchy of Needs here and trying to draw out incentives for people to do certain things."
Abela stressed the Taber police service needs its boots on the ground, and there are multiple ways it could be rolled out though an efficiency audit that Abela would bring back to the police commission in the fall for advice, support or a policy decision in providing adequate and efficient policing.
"We need boots on the ground, but at the same time, how can we take what we have without increasing budget? I don't want to increase budget. The goal of the exercise would be to do it budget neutral or less," said Abela. "I need some time to think about this and come up with a strategy in the fall that will allow me to do that and share it with you and get feedback on what's best for the organization."
Abela is scheduled to have his report on organization efficiencies to the Taber Municipal Police Commission when it reconvenes its meetings in September after the summer break.
The September Taber Municipal Police Commission meeting goes Sept. 11 at 4:30 p.m. in Taber council chambers.