Sorensen giving back through police commission
Posted on June 26, 2019 by Taber Times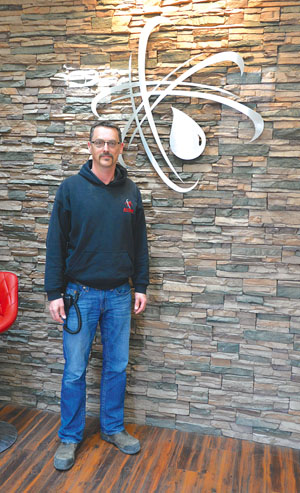 TIMES FILE PHOTO
By Trevor Busch
Taber Times
tbusch@tabertimes.com
Joining the Taber Municipal Police Commission in April after an appointment as its newest commissioner, Martin Sorensen is hoping to give something back to the community.
"When somebody suggested this, I thought why not. It seems like something important, something interesting, and potentially challenging. So I thought I'd give it a shot. I'm not sure that nine meetings a year is quite enough to fill that extra time I seem to have now, that maybe I feel I should give back to the town, or the community — so I may be looking for something else — but this certainly a start. It's interesting. Obviously, policing is very important."
After in camera discussion at town council's April 23 meeting, Sorensen was appointed by unanimous vote to the commission for a two-year term which expires on Dec. 31, 2020. Sorensen has a BA in Commerce from the University of Alberta, and has worked at Ar-Tech Coating since 1989.
Looking to fill some extra time now that his children have grown up, Sorensen was convinced to try his hand at civilian oversight.
"It wasn't by any means my idea. Somebody suggested it, and I thought it was a good idea. I've never been one to volunteer a lot, I always put my time into work. Work, work, work, and then obviously some time for family. The kids have moved out a couple years ago, so we're empty nesters, and I definitely feel like there's time for something."
Checks and balances on the powers of police and law enforcement need to be present for the system to function effectively, according to Sorensen.
"It's very important. There always has to be oversight, of anybody and everybody, whether that be law enforcement, government — there always has to be oversight. So I think it's very good to have civilian oversight. Absolutely its very important."
As for goals, plans or initiatives Sorensen would like to see implemented, for now the new commissioner is still learning the role.
"I have some ideas, but I don't really know what my role is, so I don't know if my ideas are… or if I can potentially accomplish these things. So for now I'm going to keep that to myself. I don't want to say things out of place and then realize that's not my role, that's not something you can do. But that's something I really want to learn about. I do have some ideas, and I do need to dig in and find out what we really can do, and what our role is as the police commission."
Sorensen was wounded in the Las Vegas mass shooting in October 2017 which killed 58, and he admits the experience has definitely reinforced his respect and appreciation for all that law enforcement agencies do.
"I've always had great respect for the police, and that event only reinforced my respect for the police. When you're involved in that event, and are there when 20,000 people run one way, and then you have a group of people (law enforcement) either run towards that, or are on the ground and you know they're there and responsible for dealing with that — that really reinforces the respect for the police services, absolutely."