Taber/Vauxhall RCMP forever thankful for Victim Services
Posted on June 19, 2019 by Taber Times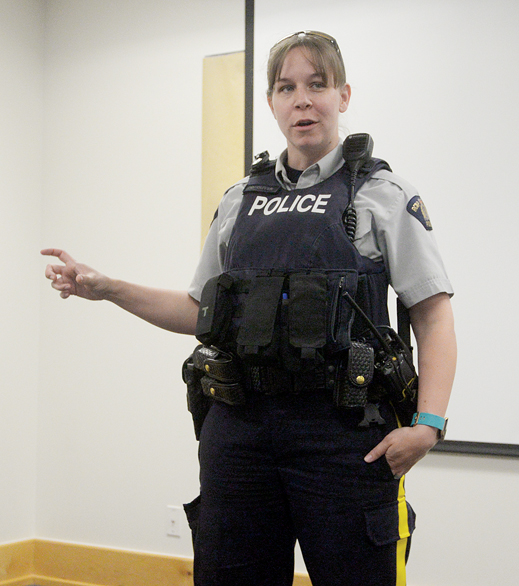 POLICE PRESENCE: Cst. Corinne Oliver speaks to the crowd of the importance of victim services units to policing agencies. TIMES PHOTO BY GREG PRICE
By Greg Price
Taber Times
gprice@tabertimes.com
The following is Part Two of a multi-part series of a presentation done at the Taber Public Library in bringing awareness to Victims of Crime and Survivors Week. Following articles will highlight various agencies that work alongside Horizon Victim Services, along with testimonials from people who have volunteered for the organization and received help from it.
Policing agencies are very thankful for organizations like the Horizons and Victim Service Unit in aiding the job that they have.
That appreciation was echoed at the Taber Public Library during Victims of Crime and Survivors Week, as the Taber/Vauxhall RCMP detachment was one of several guest speakers.
"We are actually very lucky here in Taber and Vauxhall. The RCMP cover all the rural areas, we cover County of Warner, M.D. of Taber, County of Vulcan, little bit of County of 40 Mile as well.
We have a huge area actually, about 5,000 square kilometres give or take," said Cst. Corinne Oliver. "But, we have a very close working relationship with Taber Police service here which is really good and amazing to have."
One of the jobs of the RCMP is working with victims of crime where having volunteer organizations like victim services is a huge part of that. Before becoming an RCMP officer, Oliver volunteered with victim services in Red Deer and Brooks.
I know both sides of the job and what victim services has to do in terms of training and understanding the different parts of the law.The whole process, from what the police do, to what the court does and then corrections. It's a lot and they are an invaluable service," said Oliver.
"For us as police officers, we are sometimes pegged as not the touchy feely type, which is fair, some of us aren't. But for us, we have a job to do, whether it be handling an absolutely chaotic scene in trying to figure out what happened, who is at fault and who we need to deal with, to dealing in a situation where the safety of the individual is absolutely paramount. My job for the lack of a better word is to get rid of the bad guy."
Knowing that that there are volunteers like the Horizons and Victim Service Unit in personnel who can work with individuals who have been victimized is crucial for law enforcement agencies.
"I know that they are going to be taken care of. I know that they will have someone who can be with them, either though the event still, or right after," said Oliver. "They can do the hand holding, talk about how they are feeling about what just happened and explain to them what the next steps are going to be. For those who have experienced any type of trauma, whether it be a crime or a horrific car accident or a sudden death, you are left with all these questions and the police don't always have the time to answer those effectively. Covering such a large area, maybe it's another call we have to go to or I have someone in handcuffs I have to deal with. Victim Services is such a big help and they are there in the process all the way through, from the beginning to the end."
Having many hands makes lighter work for all involved in what is likely some of the most traumatic experiences one has in their life in being victims of crime.
"It even allows us to do our job better, and I've seen it. When I was working in Brooks with victim services, I was assigned mainly domestic violence clients. She didn't want to talk to police, she didn't trust police. Her abuser told her not to trust police," said Oliver.
"We sat down and we chatted and I was like 'No, I believe you, the police believe you.' You should have seen that wall come down where she was extremely forthcoming and told the police officers everything they needed to know so that they could deal with the accused in a proper manner. I've seen both sides and I know how much victim services can bring in comfort, information, all that stuff."
Horizon Victim Services currently has 11 volunteer advocates. It serves Taber Police Service and Taber/Vauxhall RCMP . There are currently 76 victim units in the Province of Alberta in which the Taber/Vauxhall area is one of them.
The board applies for the grant money that is in fund that comes from victim surcharges on tickets/sentences, to be able to pay for services that the victim services unit provides.
The Taber area has a maximum budget of $150,000 annually that is allowed. Currently, the fund sits at a $71 million surplus.
If you would like to learn more about Horizon Victim Services, you can call 403-223-8991.