Swarbrick one of hundreds of firefighters sent to High Level
Posted on May 29, 2019 by Taber Times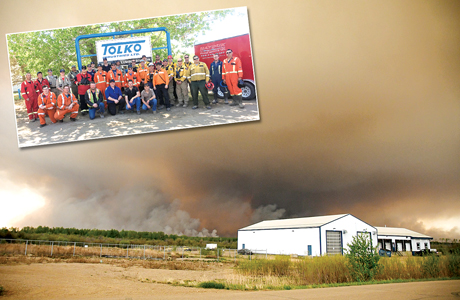 FIRED UP: A controlled burn south of High Level, near the Tolko sawmill on May 22 darkened the sky. Taberite Cole Swarbrick has been one of many on a contracted team of firefighters who are helping protect the Tolko property. TIMES PHOTOS SUBMITTED BY J.W. SCHNARR AND COLE SWARBRICK
By Greg Price
Taber Times
gprice@tabertimes.com
Firefighting crews from all over the province have descended on the High Level area to fight the wildfires a mere few kilometres away from the town that has seen approximately 4,000 residents evacuated as a precaution.
Local volunteer firefighter Cole Swarbrick has answered the call, as the Taber Fire Department got a request, where a contractor (Arctic Fire Safety Services) was looking for firefighters to fill spots. Swarbrick has been in High Level since early morning on May 21.
"We have a lot of different departments up here from around the area and down south. It's a lot of teamwork between not only contractors and the local fire department, but a lot of municipal fire departments as well, and business owners all coming together," said Swarbrick. "There's business owners supplying us with food for breakfast, lunch and dinner and snacks in-between. We are all taking care of each other and helping each other out, and building bonds with people we have never met before."
Fears of shifting winds had crews on high alert on the weekend, but those fears lessened as of Monday for the area Swarbrick's team is to help protect in the Tolko Mill of Tolko Industries.
"The winds have been questionable up here. It's hard to get a read on it. But nothing to be worried about (as of now)," said Swarbrick in a noon interview with The Times on Monday. "Sunday was supposed to be a big day in our area. We have a lot of smoke and a lot of wind, but for the most part, the town has been in really good hands and haven't heard much damage to things other than the boreal forest areas. My division, we've been tasked with protecting a certain area, so we've been setting up sprinklers. For our division, it's sort of a first for wildlife firefighting here with wildland/urban interface I guess. We are a division made up entirely of contractors, there are no municipal departments here."
The sprinkler systems set up in the first couple of days were to help alleviate the fear of the area going up in flames with so much sawdust around.
"We went through thoroughly and wet those down to make sure there wasn't a lot of a chance of embers catching on those. Next, was the big decks of logs. They have big timber logs that are freshly cut-down trees," said Swarbrick. "They have eight or nine stacks of them in the yard here, they are huge. We've been setting up water tenders on those with a hose on the side. A large part of our role is just supplying the water to all the systems and cleaning up sawdust, putting them in piles and soaking them down and doing parlors. When the wind starts to blow our way, we can see some ash and so we do patrols."
Mandatory evacuation orders expanded to include the community of Paddle Prairie on Sunday, officially displacing 490 more people from their homes as the Chuckegg Creek fire continues to rage southwest of High Level, as the blaze has burned more than 107,000 hectares. Many residents had already voluntarily left the community 70 kilometres south of High Level.
A buffer zone has been set up, as nearly all the previously forested land in a three-kilometre stretch between the Town of High Level and the edge of the fire has been pre-burned by fire crews.
"Our wildland firefighters and the lines they had dug, it was a really good show of the hard work there. I think I heard them saying the fire was between one to three kilometres from this area," said Swarbrick. "There's a lot of people doing a lot of hard work. They did a 5,000 hectare burn from the town to get rid of some of the fuel there."
In High Level, fire reinforcements from 22 different town and municipalities have been checking properties, removing debris, propane tanks and patio furniture away from residences.
Much like fears with Swarbrick's protection of the lumber mill, embers from a forest fire can travel up to a kilometre to start blazes elsewhere in town. Dozens of helicopters and air tankers combined, along with 46 pieces of heavy equipment have been used to battle the blaze.
At its peak concern for the fire, only a couple of hundred people remained within town limits in High Level to support ongoing firefighting efforts, including J.W. (Bill Schnarr), a former Taber Times reporter and now editor of the High Level Pioneer-Echo. He was seen as an essential service in getting information out to the public.
"We have seen some stragglers stay behind and you see a few vehicles here and there. But, we are starting to hear the term 're-entry' being thrown around a little more, so I think some civilians are coming back in checking on their businesses, homes and stuff," said Swarbrick.
Mandatory evacuation orders affected about 5,000 people as of Sunday, 4,300 of who had registered at an evacuation centre. Evacuees began applying for government aid online Sunday and, on Monday, they were able to pick up pre-loaded debit cards at evacuation centres.
"It's been a fantastic command structure here. We have chief (Rodney) Schmidt here with the High Level Fire Department as the incident commander, him and everyone else up top there controlling the logistics, communications and liaisons , it's all amazing how they have put it all together," said Swarbrick. "It's a very defined command structure. It runs all the way down to our division supervisor, it's really clear cut and really effective."
As a Level II firefighter with the Taber Fire Department, Swarbrick imagines he is like every other firefighter in simply wanting to answer the call for those in need in High Level. On call 24/7, Swarbrick noted when he is out at the mill or helping with other divisions, shifts are 9 a.m.-10 p.m. Firefighters are told to 'sleep light' at night if the fire shifts for the worst in which they could be called up on in the wee hours of the morning.
"A lot of it is just wanting to come up here and help people. No one likes to see another place devastated by a wildfire or another natural disaster. You want to come in here and put in your hard work and do everything you can to help these people," said Swarbrick. "You know what you are doing is worth it and people are thankful for it. We are all here to give a hand to protect this area. It's such an amazing display of teamwork and camaraderie out here. And I'd like to thank Taber Special Needs, for letting me come here to help and covering my shift back home."
Swarbrick is one of an estimated 260-plus firefighters who have helped fight the Chuckegg Creek fire.
As of Monday, travel through northwestern Alberta was limited as Highway 35 remained closed from five to 30 kilometres south of High Level. Highway 58 was also closed for about 90 kilometres west of High Level.
Alberta Health Services issued a special air quality notice for Mackenzie County and the High Level, Peace River, Grande Prairie, Wood Buffalo and Wabasca regions, warning of poor air quality and low visibility due to smoke.
Weather is expected to have peaked at 31 degrees on Tuesday, with a high of 26 today and temperatures ranging from 18-22 degrees from Thursday to Saturday. Mother Nature is expected to help out on Sunday with a 60 per cent expected chance of showers.