CIB hoping people stop to smell the flowers
Posted on May 29, 2019 by Taber Times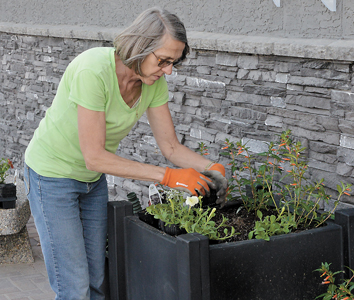 HARD WORK: CIB volunteers like Janny DeVlieger have been hard at work with their green thumbs around downtown to bring a splash of beauty. TIMES PHOTO BY GREG PRICE
By Greg Price
Taber Times
gprice@tabertimes.com
Communities in Bloom are hoping its awareness campaign will bloom just like the flowers they plant every spring around the Taber community in its beautification.
Its members have been putting up posters in various willing businesses around town, asking people to show respect for their efforts of the numerous planters they help fill that gives the town a splash of colour and TLC to the overall appearance for the town.
"Vandalism has happened every year and we hope to do something about it to prevent it," said Janny DeVlieger, a long-serving member of the local Communities in Bloom group, adding flowers get ripped out of planters.
"We are trying to come at this from a really positive point of view. We don't want to shake fingers at people, we just want to acknowledge the hard work into all the flowers that are beautifying the downtown area," added Jan Clemis, who joined Taber's Communities in Bloom two seasons ago.
There are approximately 25 standing planters around the downtown core and 36 hanging planters. Past that, CIB also works around the Aquafun Centre, Taber Community Centre, the Town Administration building, Ken McDonald Memorial Sports Park, and the Taber cemetery.
"The hanging planters are usually OK, it's the standing ones where we are seeing (vandalism) problems," said DeVlieger of the immediate downtown area.
Communities in Bloom meets year round, where in 2019, members starting its planting season back in March at the Sunnyside Nursery.
"It's a beautiful, long growing season and we want to take advantage of it," said Clemis. "Our goal is to beautify the city and make it a showcase. Communities in Bloom locally has been recognized with provincial awards in the past. We are proud of what we have done and we want those in the community to be proud of it too and be respectful of it too."
Communities in Bloom find most vandalism of its planters occurring on weekends in the downtown core, with flowers being torn and thrown out of planters on Saturday or Sunday mornings.
"It's a frustrating situation where it's happened every year," said Clemis, adding approximately 22 to 25 CIB members help out every year in the planting campaigns in the Taber area. "They do a great job beautifying the community and we don't want to not beautify certain areas of our community either based on past track records. We want to include the entire town in our beautification efforts."
A fairly new member of Communities in Bloom, Clemis is amazed at how wide the reach of the organization is in its beautification efforts.
"We really do meet 12 months out of the year. We are very actively involved in Christmas decorations, we started a school garden at Dr. Hamman this year, we are always looking at ways to beautify as a group in the community in a variety of ways," said Clemis, adding joining CIB was a natural fit for her. "I love getting my hands dirty and have always had a garden and flowers in my own yard."
DeVlieger and Clemis added downtown businesses have been very supportive in allowing CIB to put up awareness posters in their places of business, showcasing the organization's efforts in making the area more attractive.
"They are concerned about vandalism just as much as we are," said DeVlieger, adding the town has been very generous with funding for CIB and Sunnyside Nursery greenhouse gives CIB a discount and also allows them a section of their business to grow their plants in an aisle.